I considered this my first flight of the 2011 flying season. We had been having  a vacillating weather in this area for a couple of months. One day it might be warm and partly cloudy and the next day it would be raining and cold. This was the 22nd of May, though, and it was warm and the wind was nil. I grabbed the chance to hit the air.
As soon as I headed north I got an inkling of what would be the theme of the day. I saw the purple castle you see in these folks' front yard. They are are very popular with kids although they have been somewhat controversial in Wichita of late. Called "air houses" or "bounce houses", they are plasticized canvas filled with air for kids to jump around in side. They are a lot of fun but unfortunately a youngster somehow got killed in one a couple years back and Wichita decided to ban them. This decision has not been met with universal favor.
A little farther north, almost to Kellogg Avenue I saw this new structure going up . I wish I could tell you what it is but I do not know. I am guessing it is a school.
If you look at the house on the left you will see another "bounce house" out for the day. Where there's two, there's more…
I understand that Golf is merely the word "flog" spelled backwards.
I dropped into one of my all-time favorite fields "The GliderPort". I hangared here years ago. It used to be a mecca for ultralight flying when Steve Ewing had MorningStar Aviation located there.
The GliderPort is also home to the Belite Ultralight Company. It is a nice machine with some very modern touches to it. They are available with a number of different engine configurations – two different ones featured here.
Beings how this place is called "The GliderPort" it was fitting, proper and not out of the ordinary to see gliders in the pattern and being towed aloft. Glider guys do not seem to be very interested in ultralights.
I took off from the G-Port and headed over to High Point, KS to see if my buddy Doug Moler might be around. My Wife and Father in Law are in the oil business. If you know what you are looking at above you can tell there used to be a lot of money coming out of this field.
There was a bit of turbulence at this point but I concentrated until the horizon looked pretty level and snapped the shot. This gives you a pretty good idea of the panorama I saw as I headed to High Point, KS. which is a suburb of Valley Center. About this point I am 1,000′ AGL due South of a defunct landmark that will be referenced later in this flight – The Dog Track.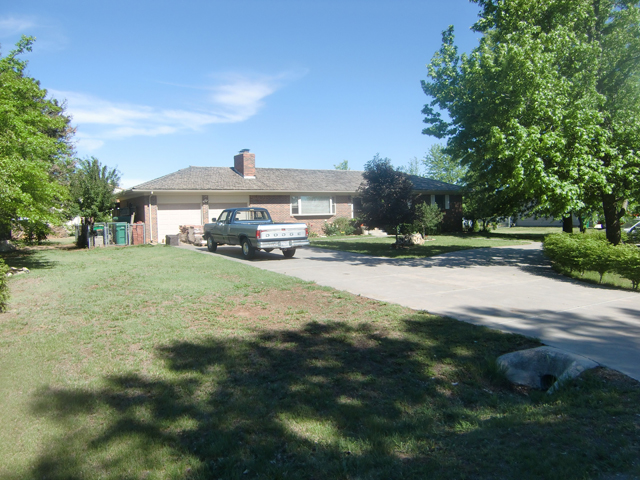 Alas, Doug and Sabrina were not home. I took this picture of the front of their property, though so I could prove I was there. Although Sabrina has a nice car, Doug's interest is not in ground pounders as this old Dodge truck will testify. Instead he has 4 airplanes of note.
The air was calm enough to light candles. No one was around so I decided to continue my circumnavigation of Wichita and took to the air heading SSW.
One of the dominant features both to the north and south of Wichita are large sand pits. Here you can see quite a few. This is looking SSW from about 1200′ AGL. Although not in this shot there are a number of nice neighborhoods that have been developed around played out sand pits. They have docks and beaches and I know some people who live on them. They are quite pleasant.
I was at about 1500′ AGL skirting the north side of Wichita Metro and I think this is New Market Square. I've never been there but I dropped my wife off and sat out in the parking lot while she shopped…
Goddard, Kansas is known as the home of Todd Tiahrt who was our Representative to the House in Washington for about a decade. I like Todd a lot and helped on his first campaign. Last election cycle he ran for the U.S. Senate and lost in the primary. If you look at the center of the shot in the top third you will see a dome. That is part of their High School. I have a fond memory of judging debate contests there of which my daughter was a participant. I was very impressed with her speaking ability and command of the subjects at hand. It was very interesting and worthwhile to do.
Rucker Field is a short grass residential field Southwest of Wichita. Every year they have a Memorial Weekend Fly-In. This year it was cancelled because the winds were very high all day. I use Rucker as one of my markers to keep me out of the Mid Continent Airport control zone. The radio antenna and airstrip are just outside the zone.
Cricket! At first I thought they were out doing some type of model airplane competition. I have seen guys years ago set up on a similar strip and try to cut ribbons off the other guy's tail. But, the closer I got I realized it was a cricket match. I didn't want to get too close as that is not "cricket" but they waved and I shot these pix. All of them had on proper uniforms and I was able to see a couple of pitches before I left the area.
Just at the end of the driveway to the house you can see two horses and their riders. I take particular care not to spook horses or cattle when flying out in the country. These folks waved and I was on my way.
As I returned to my home airport, Selby Field, I noticed a large construction project south of town near the Mulvane Exit. I decided to investigate and took these shots.
Earlier in the flight as I approached High Point, Kansas, outside of Valley Center, I passed over their last boondoggle which was located near the (defunct?) Kansas Coliseum. I am speaking of the burned out husk that used to be The Dog Track.
One of the secrets to good business is that when two parties make a deal they both come out ahead.
Over the next few years we will see that Kansans will lose interest in a "business" that only takes; one where the "customer" always comes out on the short end.
I believe over time this "gaming" project south of town will have the same result as the Dog Track – slow death.
I have this game that I play where I mimic a WWII P-47 "Targets of Opportunity" mission. When ever I see a train and I can get the engineer or fireman to wave I consider it "bagging a train". Today I just tried to get a picture and at the very last second the camera went to "battery save mode" and closed up. I fumbled around real quickly to get it to open again and snapped this shot which has shutter smear, bad composition and isn't too good. Nonetheless, today it is my gun camera and I had to use it to qualify for another "kill". I'm sure you understand.
Just south of Selby Aerodrome I passed over yet another sand pit. I don't remember ever seeing a boat like this one so I grabbed a shot.
All in all it was a great flight and an excellent way to start out the season.
Blue Skies & Tailwinds!
Brian FitzGerald