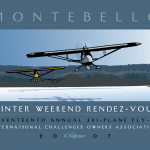 Frigid Flying
I have flown over snow in my ultralight once. Here in the South Central part of Kansas, it will snow in the winter but rarely does it stay on the ground very long. Back in the 80's it snowed one morning and I decided to fly my Quicksilver. At that time I was hangared at the Gliderport which is about 8 minutes from my home. I went there on the chance that the field was not snowbound – it wasn't. There was a good stretch of runway with no snow and I used it to take off. Even though it had snowed the evening before, the temperature that morning was already above freezing and beginning to climb.
I took off and flew the area. I had some fairly warm clothes on but not my "Stage 3"-Full Snowsuit-Electric Gloves-and-Helmet Treatment. So, it was a little nippy up there but the payoff was supreme. I never forgot how pristine it was. Since I was up so early that Saturday, most of the roads had yet to have been traveled upon. Even though there was a farm here and there, their roofs were snow-covered. Because of all this I was given a distinct impression of what Kansas must have looked like before it was settled. It was a time warp, a very special 45 minutes in the 1870's until I noticed my right thumb had lost all feeling. Actually, I couldn't feel much in my entire right hand. The Quicksilver is a "right stick" airplane. At this point my lightning fast mind figured I had been given a sign to come down. I was about 5 minutes from the field and reached over with my left hand about every 15 seconds to make sure the right was holding tight. It is important when flying to be confident one's hand is in control of the stick…
Vintage Wings of Canada
In earlier posts I have talked about Vintage Wings of Canada – my buddies up North – and recently posted a link to one of their interesting stories. Dave O'Malley is Manager of Marketing and Communications for VWC. I have been in the ad business for over 30 years and love good design. One thing that struck me the first time I gazed upon the Vintage Wings website was the Classic Design Look of it.
The other day Dave showed me some examples of posters he has produced over the years for the biggest Ski Plane Fly-In held in Canada each year. Unlike me, these guys know what snow flying is and they fly with SKIS. So I asked Dave if I could post some of his posters on Sky Surfing so you could check 'em out. He graciously acknowledged my request. He also included a couple of links to stories written about their Ski-Plane Fly-In.
Blue Skies & Tailwinds!™
Brian FitzGerald
Story Links:
Dave O'Malley Posters: