Eagles Roost
This really sharp looking trailer, the creation of Rick Bennett, arrived from Ohio for the WWI aircraft Fly-In at the Gardner, KS. airport (K-34).  It's covered with the same type fabric as the really sharp Nieuport 23 that came out of it, piece by piece.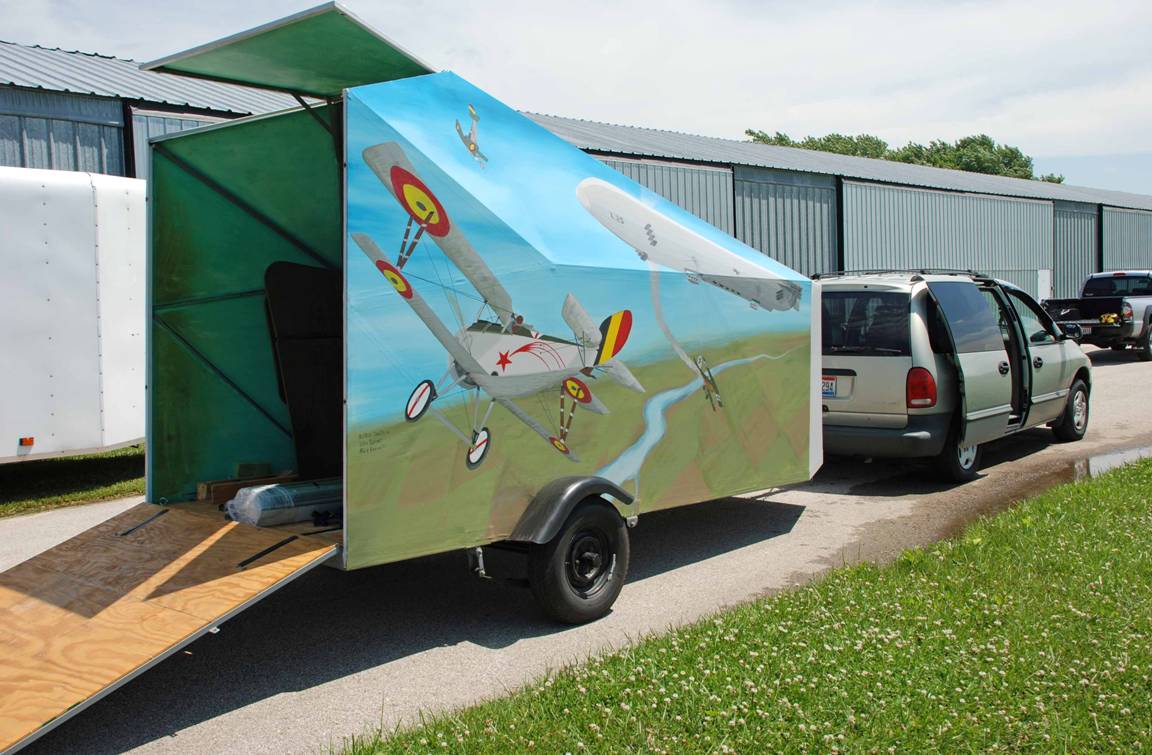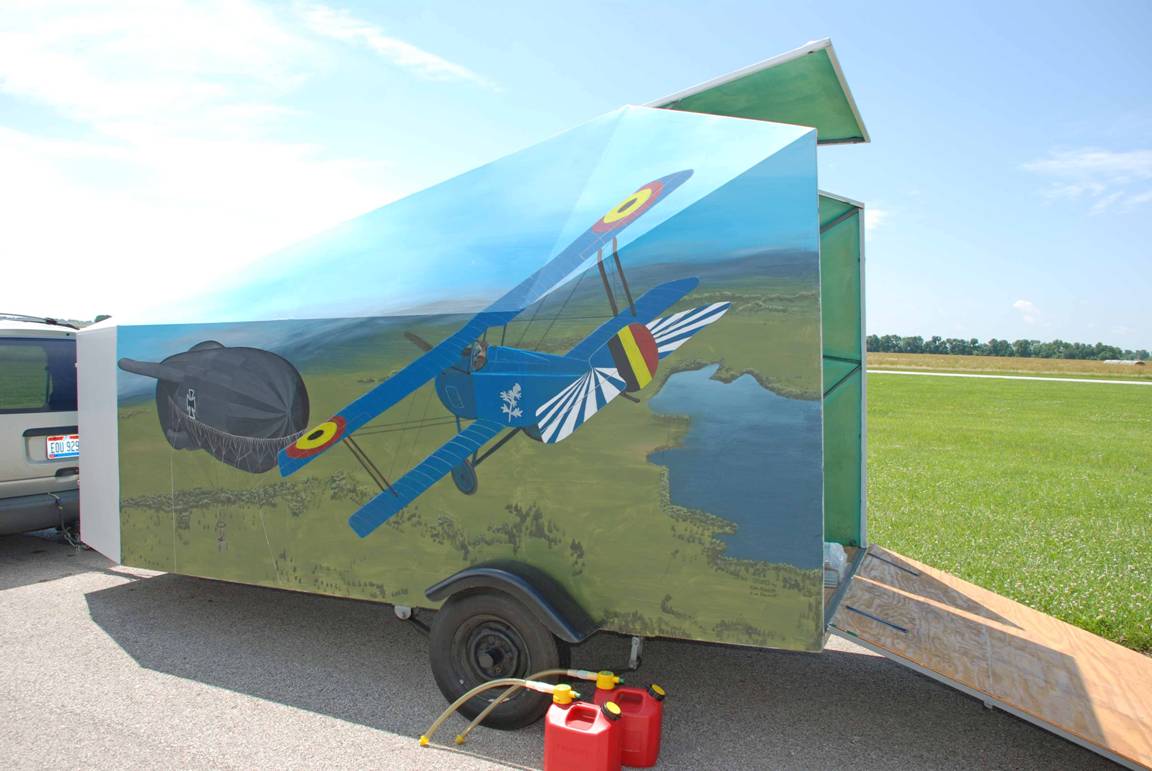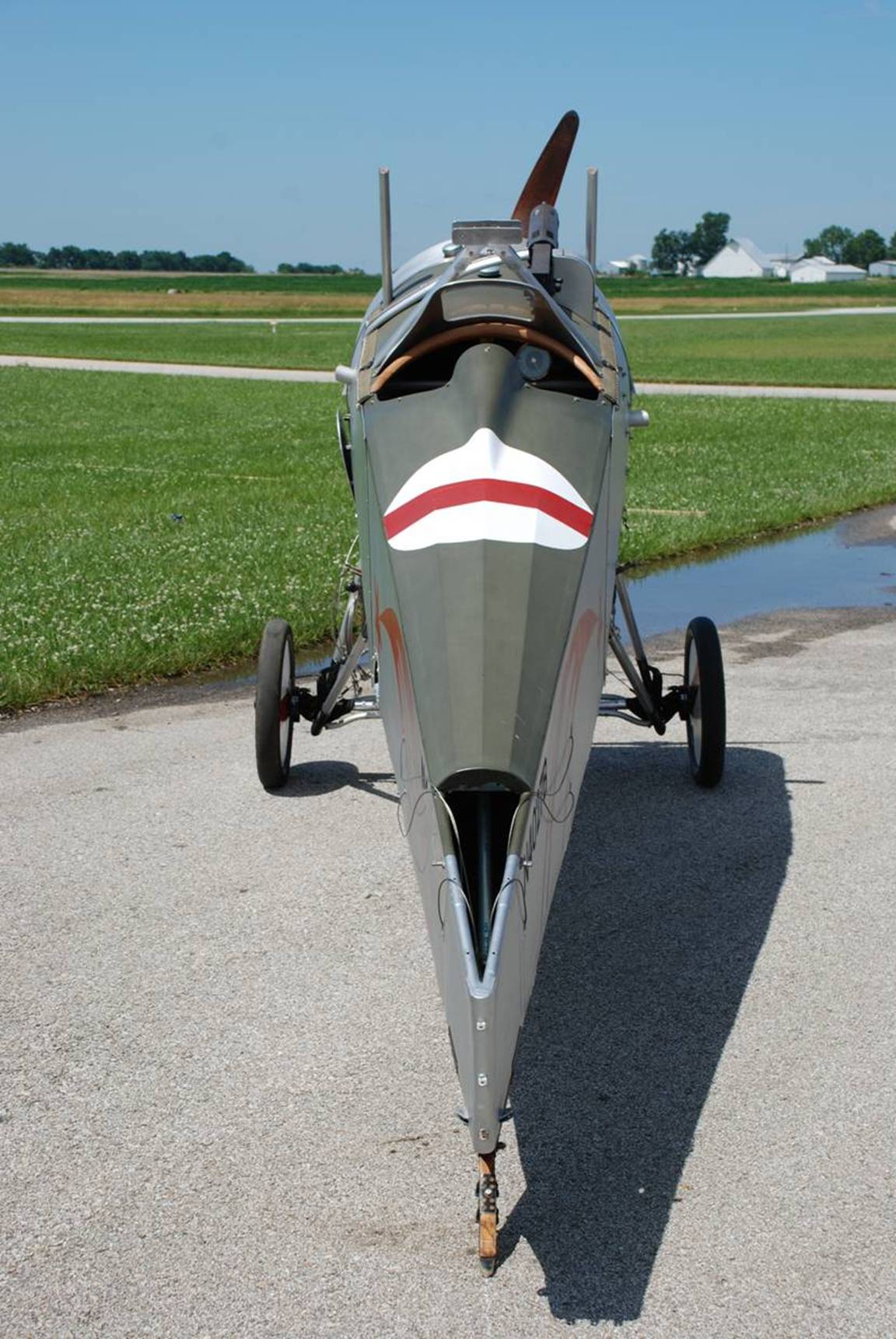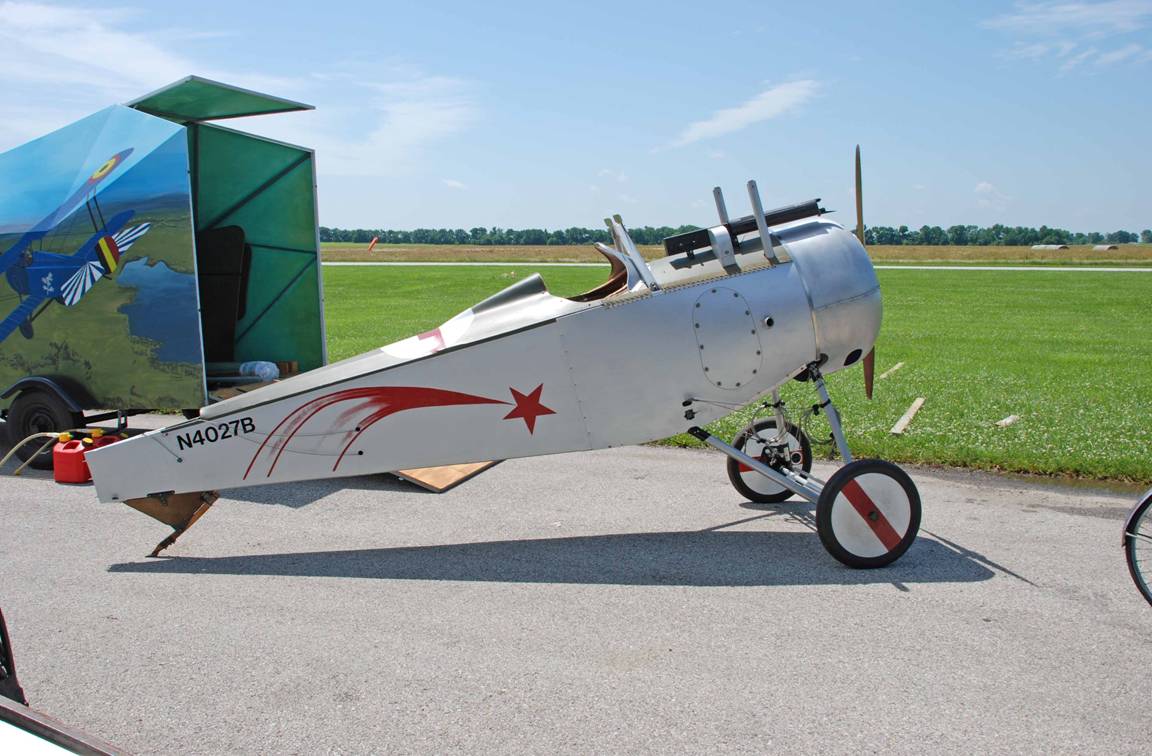 A Growing Movement
A steadily growing part of general aviation is the 'scratch built' and 'home built' segment. A part of that segment is the growing group of World War One devotees.  Rick made some construction and material changes to the GL plans, such as longer landing gear, a tail skid, and wooden 'V' struts, along with other minor improvements and preferences.  The use of aluminum tubing and gussets with rivets allows the dry weight to be a mere four hundred fifty pounds.
The VW type One engine has a displacement of 1835 CCs (more than enough power) and the ten gallon fuel tank allows about two and a half hours of cruise time.
As some of the WWI builders do, Rick chose the color scheme of an actual WWI plane flown by Edmond Thieffry (https://www.google.com/#q=edmond+thieffry+belgium) from Belgium.
Attesting to the desire to achieve perfection, Rick estimated that it took him about one hundred hours to 'hammer out' the engine cowling (from a sheet of aluminum) – without the use of special tools such as the prescribed English Wheel etc.  The end result of perfection is obvious.
Strafing Run
The beautiful VFR we had earlier in the day slipped away but Rick was persuaded to make a photo pass or two for the camera.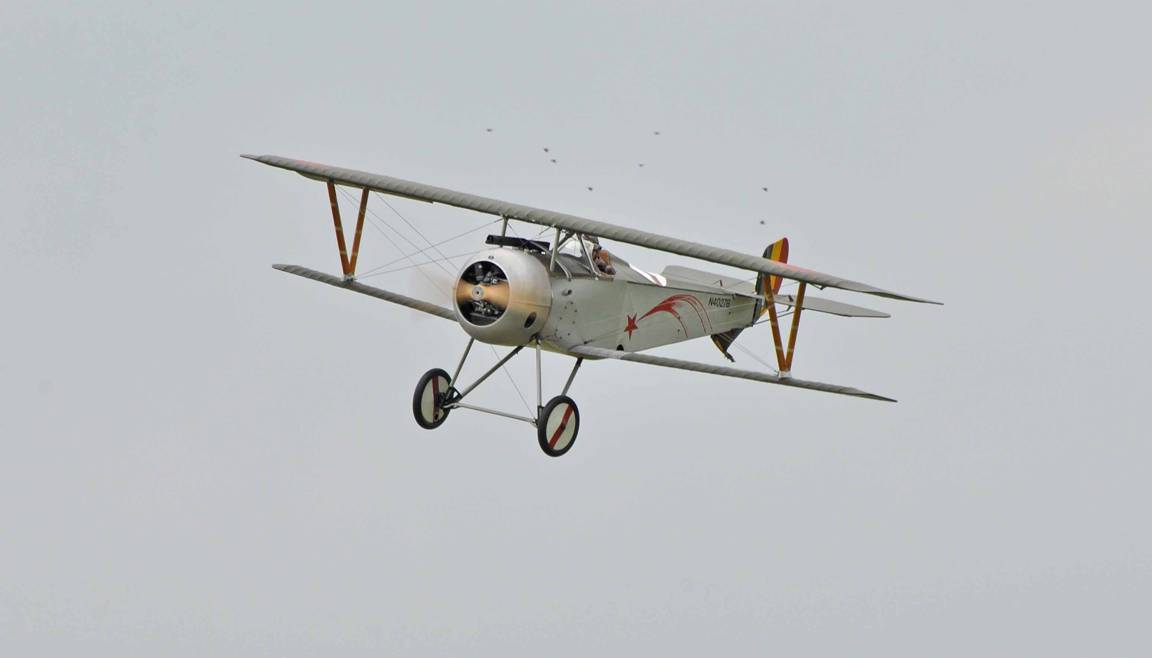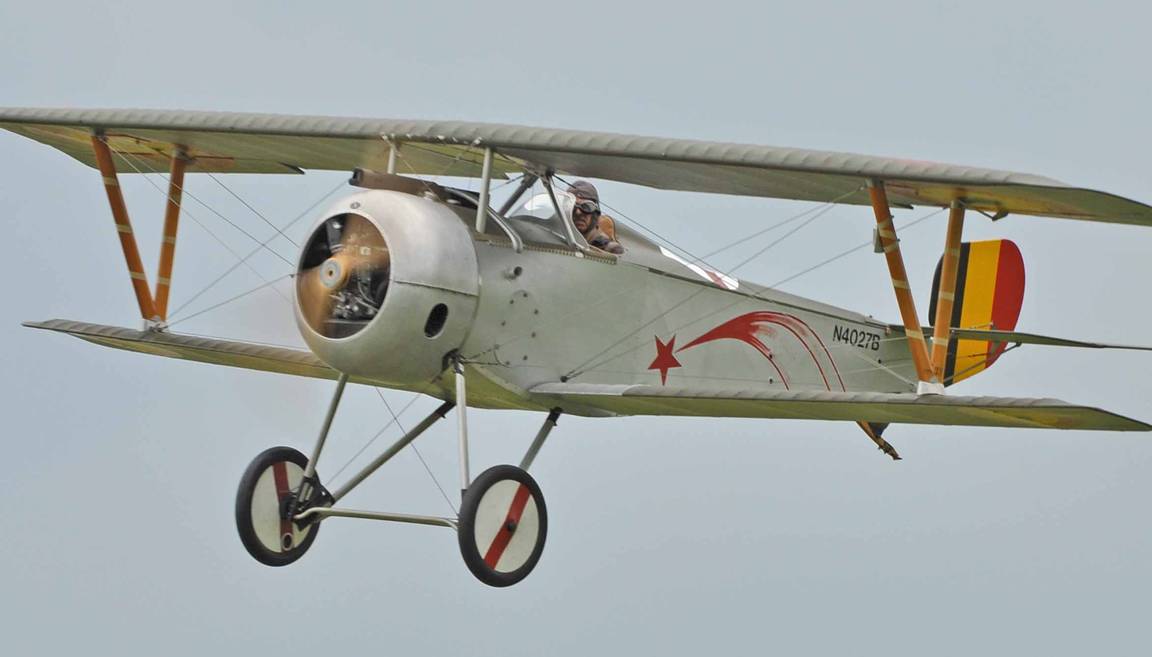 Teutonic Air Warrior  "Insider" Humor
The photo below isn't too unusual (boy will be boys), cause the WWI guys have a great sense of humor too.  Rick got VIENER SCHNITZEL–ED while away from his plane.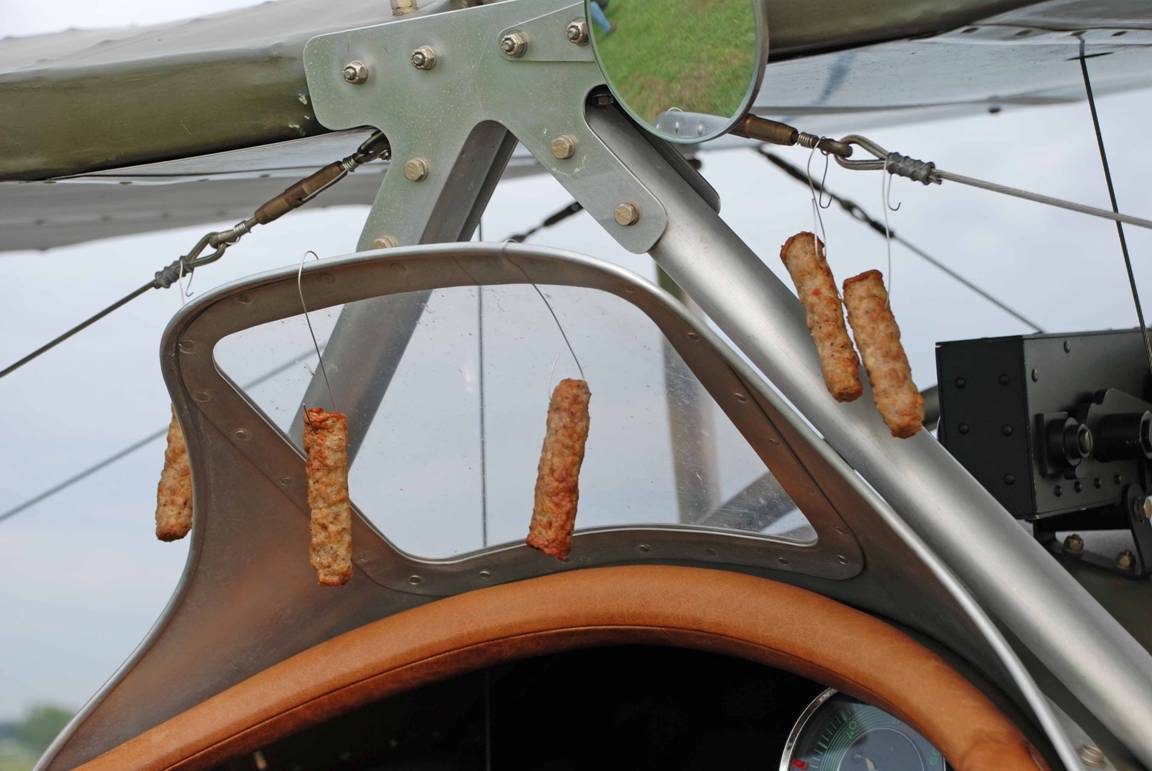 Head's Up!
Rick went on to say that flying in crosswinds can be tricky.  Fifteen knots of crosswind can be handled, "If you pay attention?"  Rick has trailered his super looking Nieuport 23 from Ohio to as far west as Gardner, KS, and to the east coast to attend other WWI Fly-Ins.
Bob