There Is No Free Lunch
Let it not be said that The Sky Surfer is afraid to employ a time-worn (some would say "hackneyed") simile to title a piece. Regardless, as you will see later in this latest photo-journalistic exercise, I think you will agree the "Free Lunch" metaphor is the perfect fit.
Sometimes, (the recent "Hit and a Miss" story, for instance) I am concerned I am being exceptionally verbose in my Sky Surfing posts. As one who's musical tastes reflect the aphorism "words can get in the way of a good song", perhaps too many words get in the way of a good photo piece, too. This story is going to follow that stricture and let the photos and captions carry it most of the way.
The Flight Plan
That being said, I do need to put some words down to set a path for The Fun Flight you are about to go on.
Bein's how Fun Flying and Flight Blog Writing don't make me any money, I am still in the workforce. The week leading up to this "Free Lunch" flight/story was very busy. I did not have a chance to plan a flight to a "never before seen" venue. Regardless, I still was eager to fly that Saturday (18 May), so I fell back on the always excellent flight (and bike) destination: The Beaumont Hotel in Beaumont, Kansas. The food is good. The service is good. Also, you can taxi your plane up to the front door of the restaurant. What can be better than that? Beaumont it would be.
 Drought Over?
This Spring has been a welcome respite from the drought our region has endured for the past three to four years. In fact, the night before I am writing this, a tornado went through the Wichita area and deluged us with water. There was no loss of life and no major damage but the water fall was great. This made the "No Free Lunch" Saturday an extremely humid morning. Instead of the standing ground fog as I showed you in the "Hit and Miss" story – today the humidity was all in the air. The sky was completely overcast and visibility was limited.
 Decision Time (is all the time)
Seen from the ground, the atmosphere was solid overcast. After takeoff, though, I was surprised how poor the horizontal visibility was. Obviously if you can't see, you can't fly. I decided I would ease in the direction of Beaumont (East) and be prepared to turn around if I felt a raindrop or if the visibility decreased any more than a mile. What you are seeing in these photos is extreme humidity. The weather report said it topped out at 96%. There were no rain cells evident. Keep in mind I am only moving about 30 miles per hour across the ground.
New And Different
Looking at the next four photos I realized I have not not done enough to make the case for this "overcast, low viz flight". I have flown to Beaumont across this enchanted countryside many times but never was it like this. The "hanging humidity" and the "flat" lighting enhanced it like never before. It was dreamlike. I have flown Ultralights in Kansas for almost 30 years and never saw anything like this before. I hope I will get another chance some day.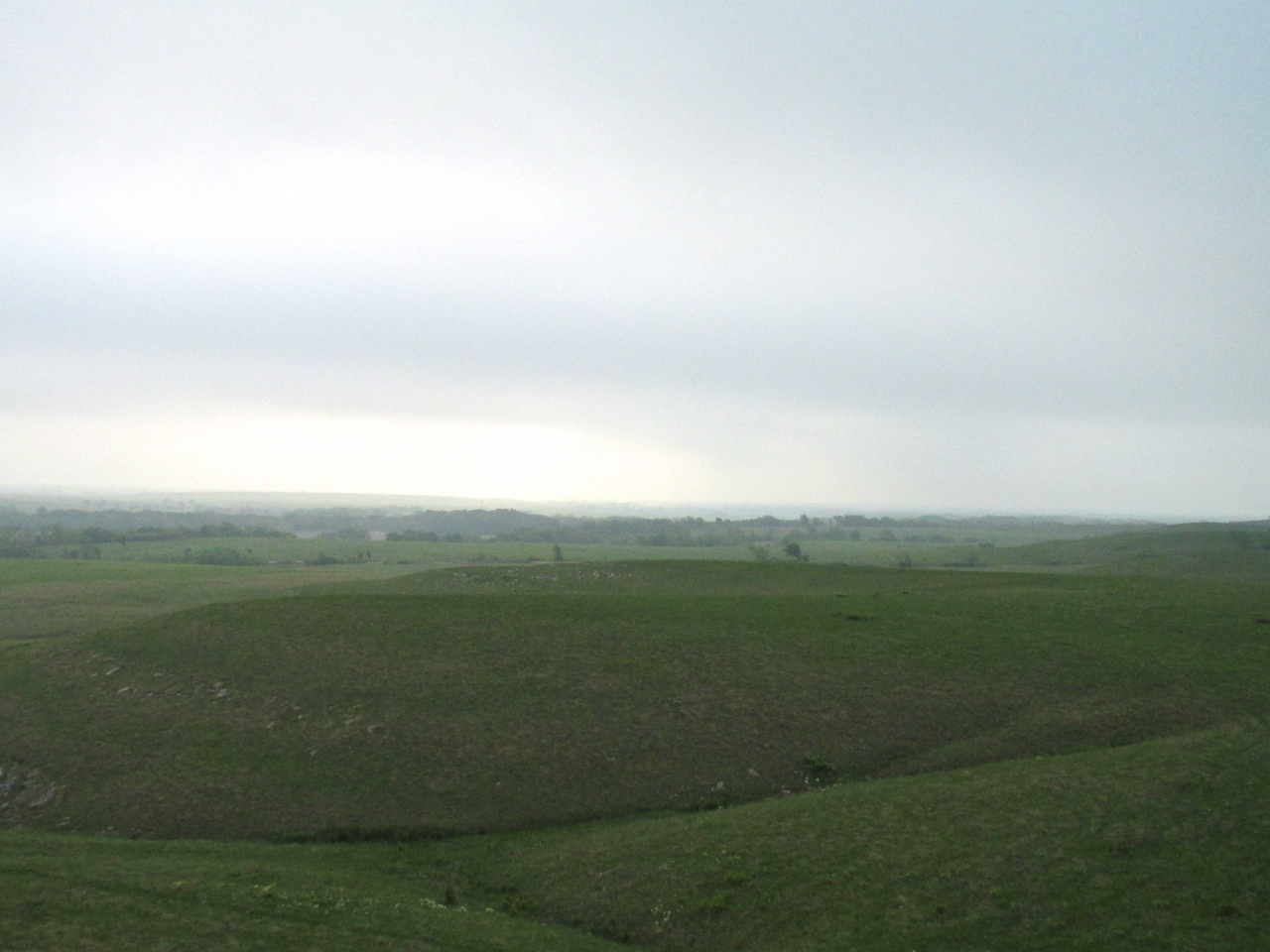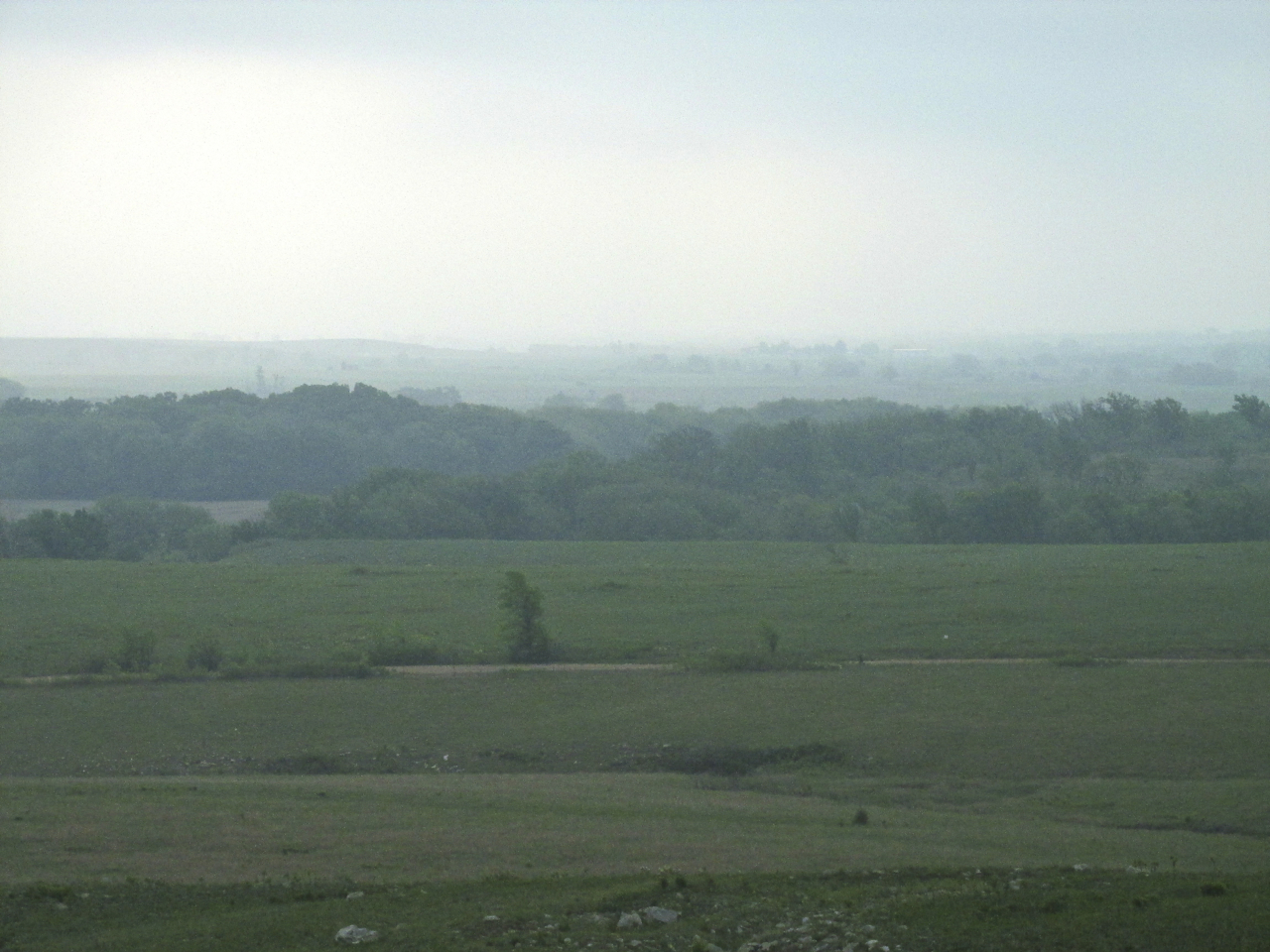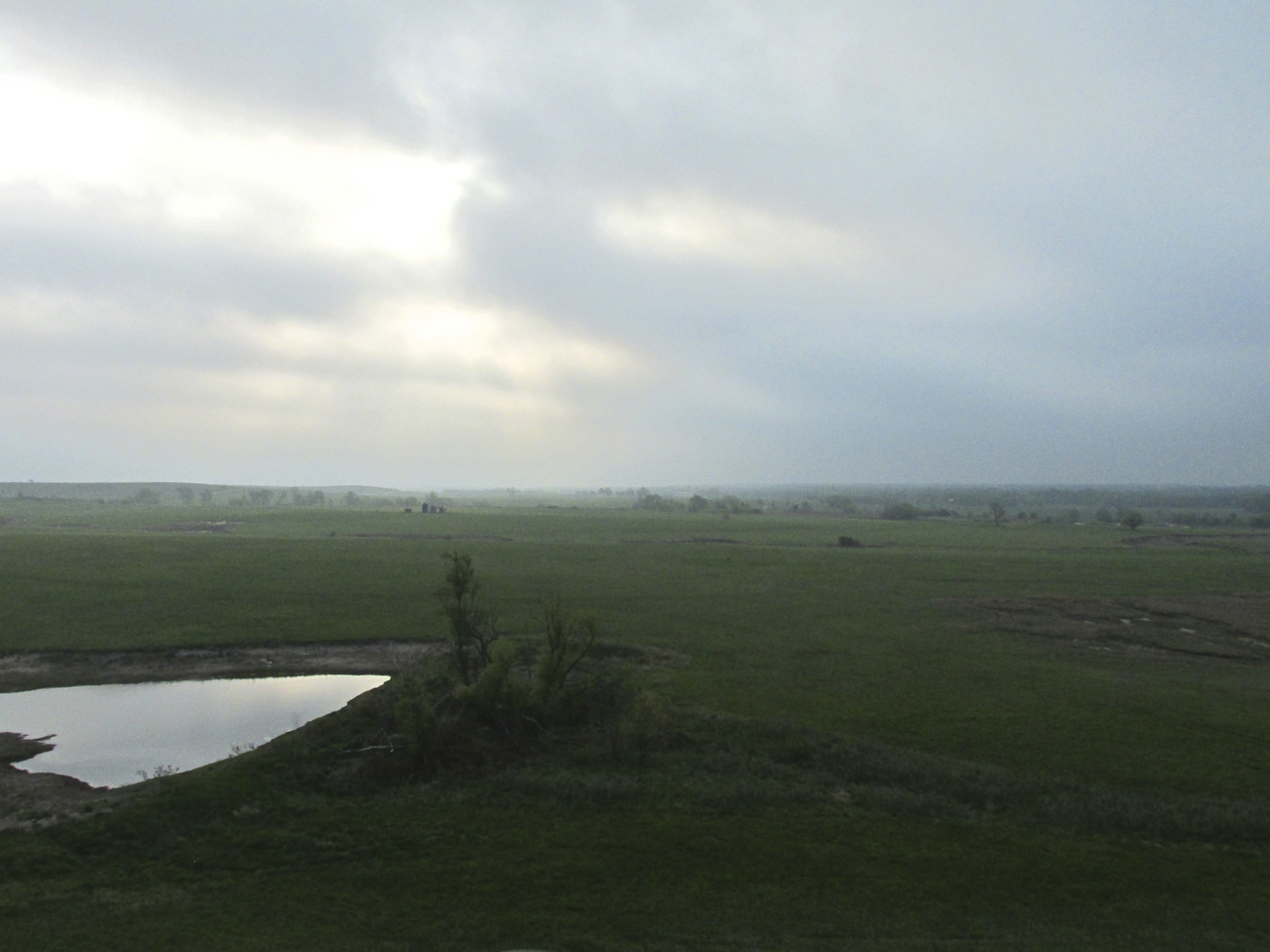 A Sign Just For Me
Back in the 1970's, much was made of the "Geoglyphs" on the Plains of Nazca in Peru. One best selling writer of the time decided these various depictions could only be seen from outer space and insisted this was proof the Earth had been settled by spacemen. I don't buy that and evidence has not borne his theory out. The Nazca signs, just as the one below, can be seen from higher topography in the area. Nonetheless, they are seen best from the air. This is the second time of my many flights to Beaumont I have come across this symbol. Last time I spent a little time checking the internet but did not find a brand that matches it. It looks like it might be the "Kay-Bar" brand. One thing this sign does tell me is that I am within minutes of sighting the Beaumont Hotel and Airfield.
 Weather Is A Great Affecter of Retail Activity
When I entered the front door of the Beaumont Cafe I was the only one there. The faster aircraft could not fly in the low visibility and the usual group of touring motorcyclists had not yet arrived for breakfast. That would soon change.
 There's No Free Lunch, But A Free Breakfast Is Every Bit As Good!
A "Must Go" Place
After eating I decided to stroll around a bit and transmutate light into digital memory pixel patterns. The following shots were all taken within 50 yards of The Hotel. I think everyone should make the trek to Beaumont no less than once a year, preferably more. Whether you fly a plane or drive a car or motorcycle, it is a special place on the plains.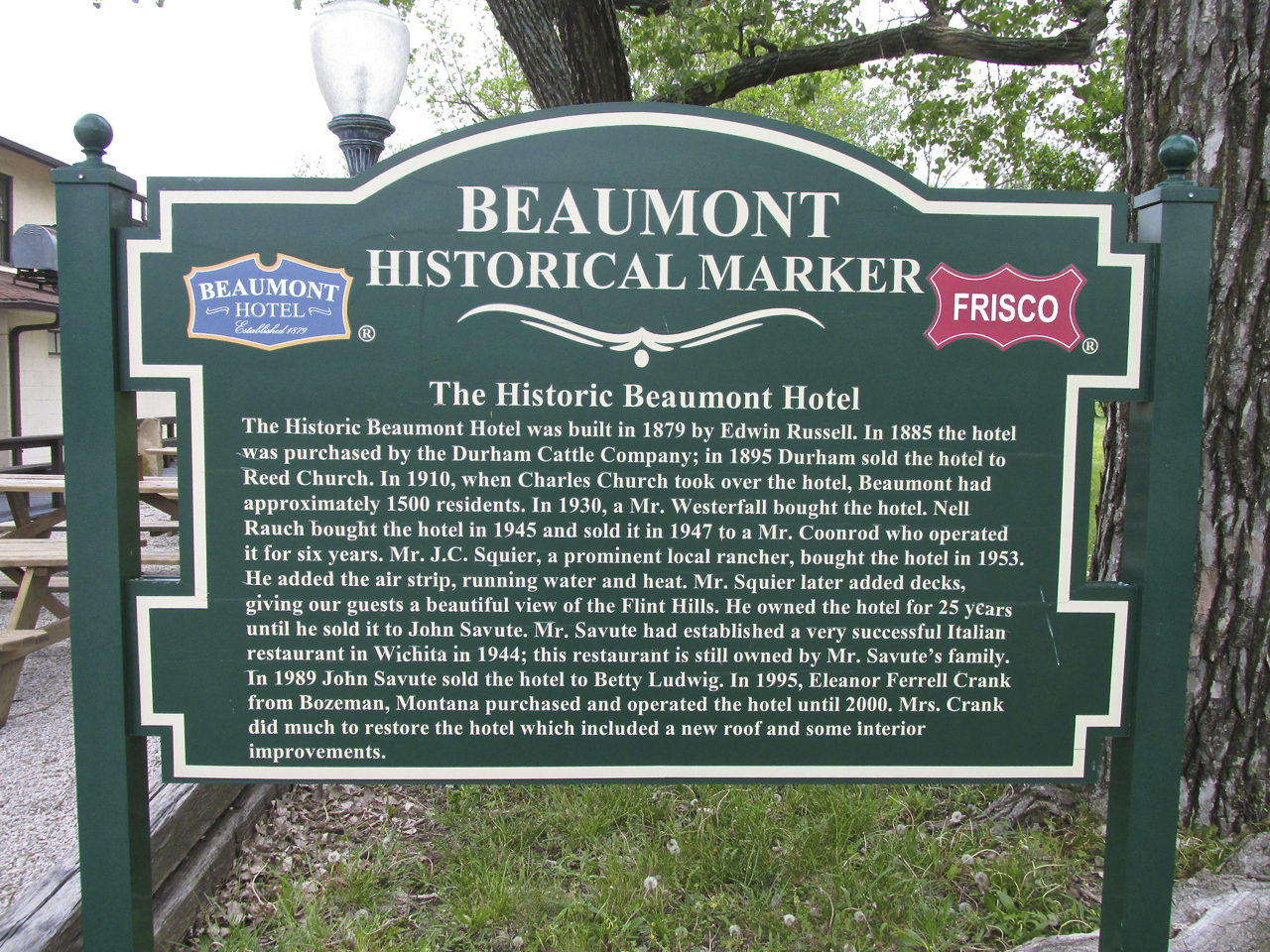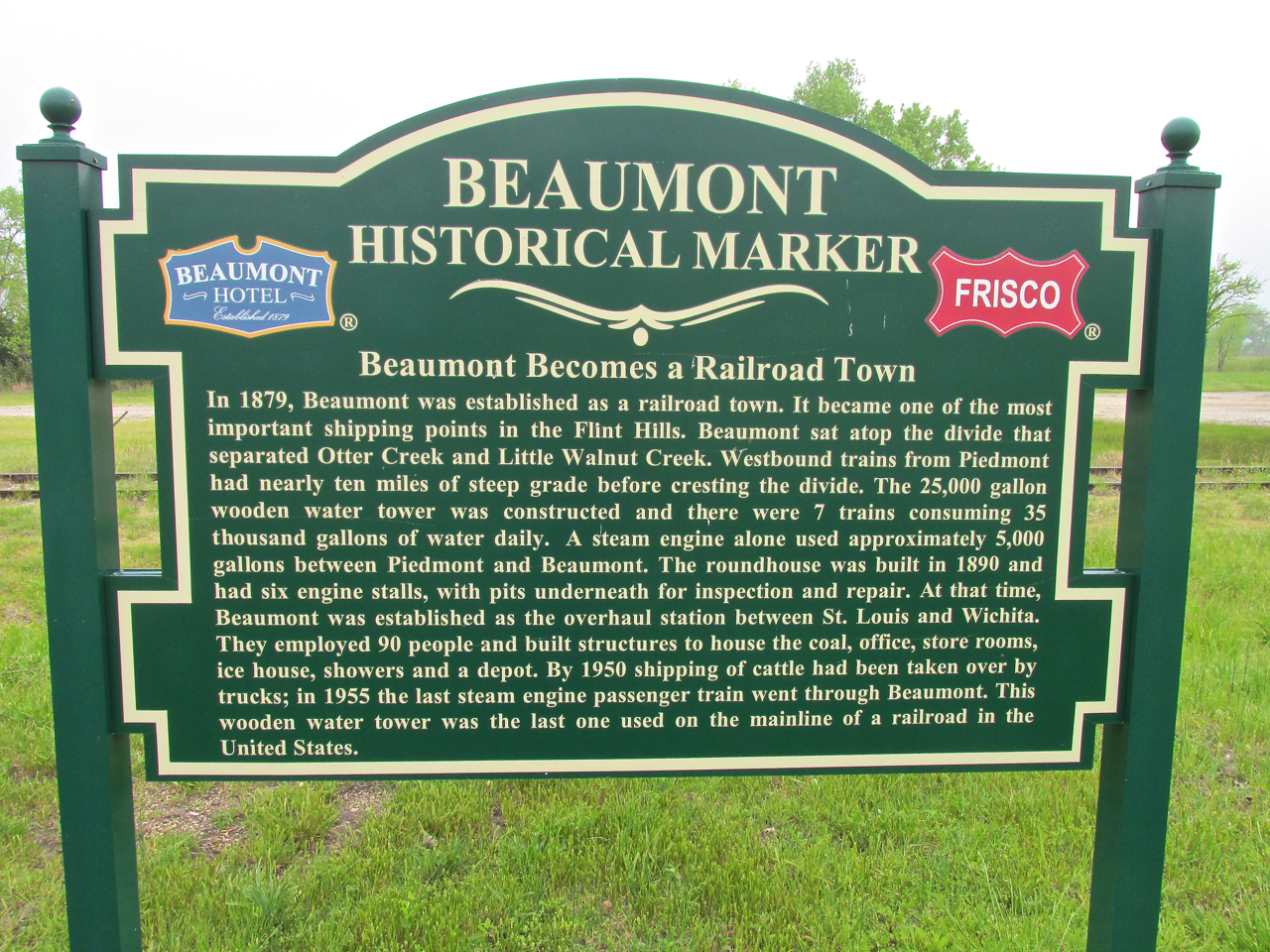 New Acquaintances Made
It was time to return to Wichita. I had made my pre-flight check of the plane, had my earplugs in/goggles on when Brian Wend pulled up on his rocket ship. He was motioning to me that he would like a picture of my plane so I stopped to accomodate. Far be it that I would be in such a hurry on a Fun Flight that I wouldn't stop to chat about Airplanes, Cars, Guns or Motorcycles.
I found out Brian is an engineer at Learjet. He recently moved to Wichita from Fort Worth, Texas. He had heard about the cool drive to Beaumont and this was his first trip.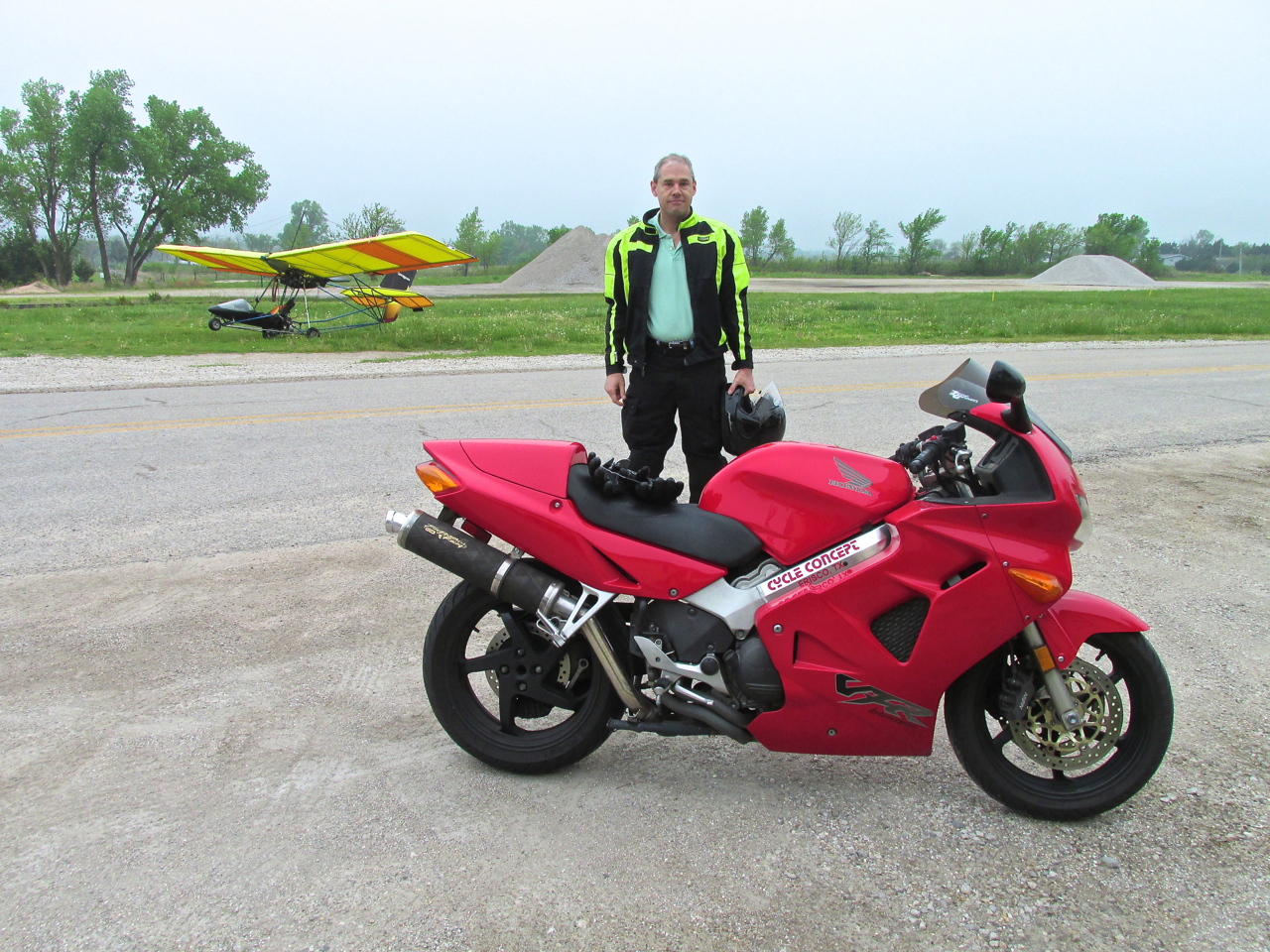 More Bikes
Then in short order another bro on a Saturday Morning Adventure showed up. He was very excited to see my plane because his brother flies Ultralights, too. This is Abe Khalid Ebrahim and he is an accountant at Via Christi in Wichita. He wanted a shot of us with my Quicksilver to send to his Brother. Brian Wend cycled through all the cameras to get all the requisite shots for all of us.
 Time To Go
Brian and Abe were ready for breakfast and I was ready to take to the air. I told them to hang around for a minute and I would fly overhead for them if they wanted a shot of that. I flew over and waved goodbye as I set course due West for Selby Aerodrome. I wasn't in the air much time at all when it felt like I was being pelted by BB's – RAIN! Now I don't mind flying in the cold, rough air to a certain degree, heat over 100 degrees, but rain is a deal stopper. Besides being uncomfortable to the face, neck and hands, I have heard it is not good for my PowerFin composite propeller. Always prepared to land, I had seen a potential landing field just ahead. It was a perfect "fallow"-type field with ingrained pickup truck tracks on it. The perfect landing strip for my MXL.
Chill Out
After landing I was prepared to wait out the shower standing under a wing but didn't have to. The rain that had hit me in flight disappeared as soon as I touched down.  This indicated to me that it was a small cell or front to the West of my position. I decided to take a break and watch the sky until I had enough evidence it had passed by. After an hour, the sky brightened up and the wind speed dropped. Those were the signs I needed. I took to the air again.
A Truly Memorable Flight
If I never get to fly this course again in the same conditions, I will always have a fond memory of The Flint Hills and Beaumont, Kansas in the Mist. For me a cautious foray yielded great results and I met two like-minded 21st Century Suburbanites out for a Saturday Adventure as well.
See you next time!
Blue Skies & Tailwinds!™
Brian FitzGerald