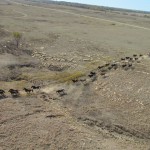 Weather Forecasting: Science Or Art?
My relationship with the weather forecasting intelligentsia goes like this: I believe them when they agree with me. I will say when we both agree, though, I am more confident in my "cast".
After the October Augusta, KS Municipal Fly-In –my previous report– I had decided the 2012 Warm-Weather-Flying-Season had come to a close. Augusta was fun and all but because of the cold, definitely a test of endurance for my open cockpit style of flying. That's why I was caught by surprise at the end of October when My Wife told me the forecasters were predicting temperatures in the middle 80's for Friday the 2nd of November. Immediately I fired up the workstation and perused my weather sources to verify the climate seers' prognostications. Friday did look good but Saturday was iffy. Debra said "they" were saying it might even rain. Having my own business, I have always worked Monday through Friday and Saturday mornings (OK. For the last two flying seasons, my Saturday "work" has trended more toward populating the pages of "Sky Surfing" with flight adventures…). I was struggling with what psychs call "cognitive dissonance". I didn't want to miss this "bonus" opportunity to fly in warm air this late in the season but the idea of "playing hooky from work" on a Friday was a mental barrier. That was Monday.
Tuesday morning the prospect of a flight adventure to parts unknown was still high on my thought plane. I was telling Debra I hoped the Saturday forecast would be wrong so I could make my journey that day. Out of the blue she off-handedly suggested maybe I should fly Friday instead. Wow. Cognitive Dissonance Gone. Suddenly I'm thinking, if she thinks it's a good idea – what's my problem with it? The Mission Was A "Go"!
Is That Where They Come From?
As has been my method these past two years of Sky Surfing, I sought a fresh venue to which I might venture. This was easy for two reasons. First, the wind would be coming out of the Southeast. Following my "Prevailing Wind Flight Directive" meant I only needed to survey the map Southeast of my airfield. Second, the name of the first town that caught my eye in that area was HOMINY, Oklahoma. Intrigued, I wondered, "Could this be the home of Hominy Grits?" That journalistic question closed the deal. Laser-focused on Hominy, Oklahoma, Friday it would be my destination.
Friday Morning
As usual I arrived at the field at dawn ready to get airborne shortly afterward. Unfortunately when I arrived at the field it was pretty cold. Having flown in bitter cold to the Augusta Fly-In the previous weekend, my enthusiasm became dampened. I did not relish the potential of flying 2.5+ hours to Hominy while shivering. For the first time since I have been doing these flights, I decided to take a nap in the car to see if it would warm up. Surprisingly, I slept for almost 2 hours! When I awoke it was just shy of 60 degrees outside. Time to go.
 The Journey Begins
I was finally airborne at 10 am. The sky was overcast. The temperature was tolerable and rising. Until abreast of Mulvane, Kansas, I had to hold about 1,000′ altitude to get over the numerous farms just South of my airfield. The headwind at that altitude was averaging about 23 mph. This put my forward motion below 20 mph. As soon as I was able to drop down to 75′ AGL the headwind became almost nil. That was good news. Also, in the denser and generally cooler air, my engine and airfoils were more efficient than during the Summer. This yielded 5 mph extra airspeed for the same power settings.
 Cotton!
At first I thought I was seeing frost on the ground. I knew it couldn't be snow… I made a slight detour West in order to see what this was and discovered cotton! You don't see cotton much around Kansas but this area Northeast of Ark City features a number of fields with bales stacked in rows.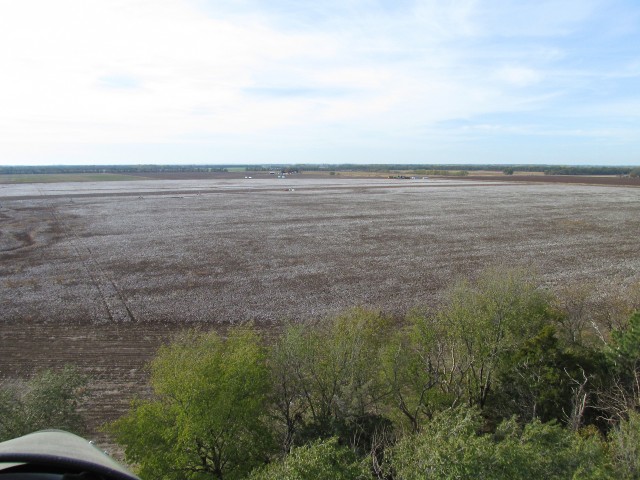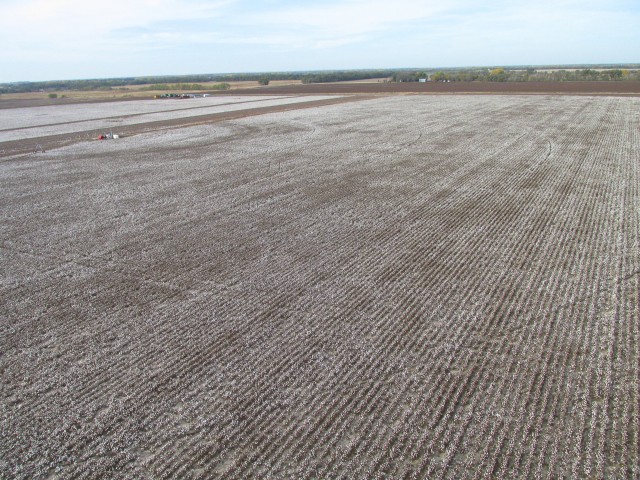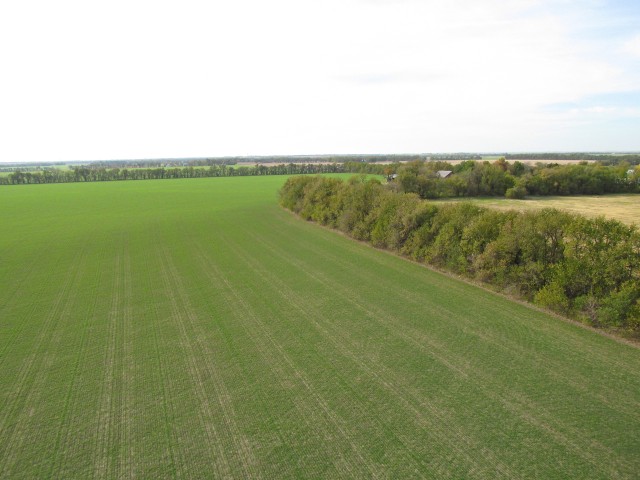 After passing South of Strother Field I climbed to cross Highway 77.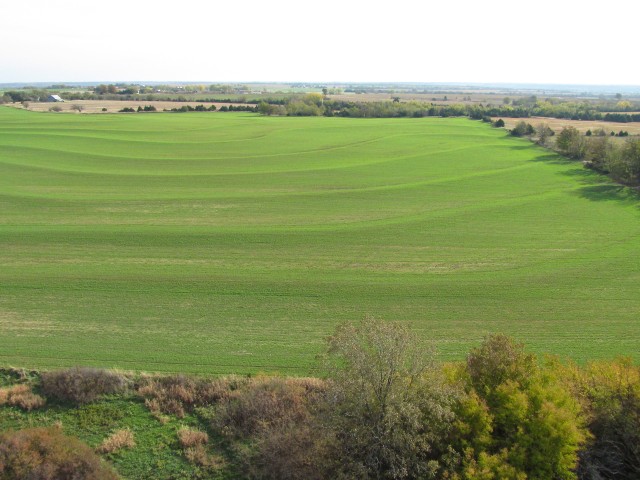 First Deer Sighting!
Suddenly three deer burst out of a tree line and tried to escape me by racing directly ahead of me in my direction of travel (Duhhh). They were galloping full out. Following is a series taken as I slowly overtook the stag who was way out front of the two does.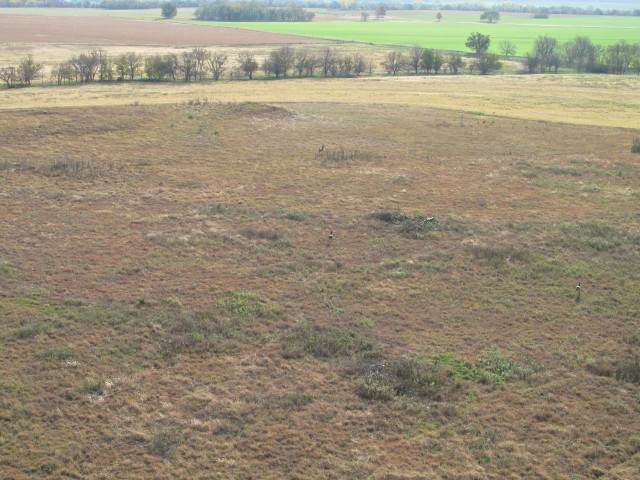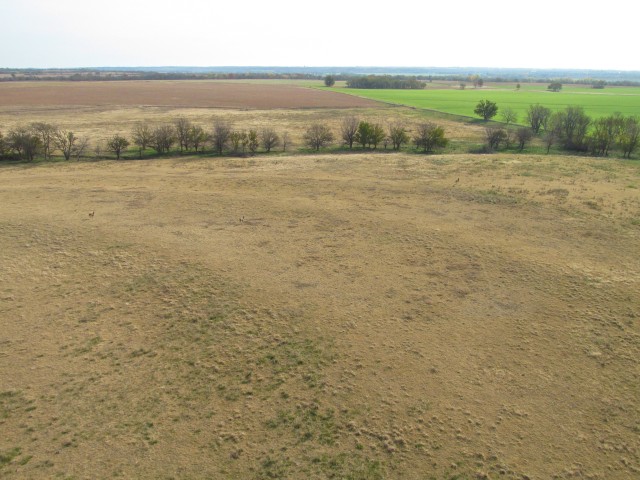 Deer Stand?
As I approached the Arkansas River, I saw this edifice alone in a field. It was unusual enough looking that I made a 300 yard detour East to get a better look. The massive pylons got my attention. Most deer stands are far less substantial. In addition, there were no large windows to shoot from. I'm not sure what this is.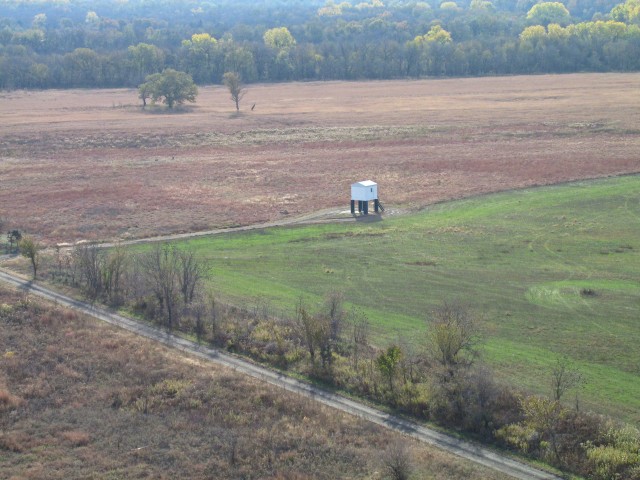 Abrupt Terrain Change
Immediately after crossing the Ark River, the landscape changed dramatically. The green wheat fields were no more. They were now replaced by statuesque plateaus covered with sparse grass suitable for the light grazing of cattle (barely). The next three photos give you a panorama of this area.
 Off Course
I knew I had let the wind blow me a little off course to the West. I didn't realize how much until I saw Kaw Lake appear directly in front of me. It was just the Northeast "Horn" of the lake but I should have passed completely East of the entire body of water. I don't fly over lakes or forests unless I can be sure of my ability to glide over them in case of engine failure. Since I was cruising at about 100′ AGL I had to decide whether to climb to a suitable altitude or to divert to the East in order to circumvent the lake. As I got a closer I noticed a "thin" place in the lake that would allow for a crossing if I climbed to about 600′. I decided this would be the most fuel efficient method to undertake and did that.
As I Approached The Northeast Fork of the Kaw Lake I Saw The "Compression Shot" of the Two Bridges Below Framing Itself and Grabbed It With The Telephoto Lens.
 Check The Map
Since I was off course I decided to take a look at my map to re-orient. I saw the oil field service road seen below and landed on it.
After looking at the map I jumped back into the air. I took the shot below so you could see what the service road looked like.
 The Wild Horse and Burro Program of the Bureau of Land Management
This was about the fifth time the 2012 flying season I had flown over some of the thousands of horses maintained by ranchers in these areas under contract to the Federal Bureau of Land Management (BLM). I have mixed feelings about this entire enterprise. I do like animals and really appreciate the esthetic of watching hundreds of these horses galloping across the plains. They love to run. It is a sight I wish more could behold. Combined with the beautiful vistas of these areas, it is ALL a great thing of beauty. Also, I am impressed with the Ranchers and Farmers out here living The Good Life On The Great Plains. I love those guys. That being said, though, I just can't make the case for the Federal Government spending tax dollars to support this Wild Horse and Burro Program. The Sierra Club and the National Academy of Sciences and the Mustang Heritage Foundation and all the other groups that want these wonderful animals to run free should dig deeper in their pockets and pay for it. Our Federal Government has been technically insolvent for decades now and must cut expenses. There are thousands of "feel good" US Government programs across the country and the world that are "nice" and "well meaning" but not the province of Government.
OK. Sorry. That will be the only political outburst in this story. Below are shots of the horses I took as I continued toward Hominy. 3 separate herds are featured.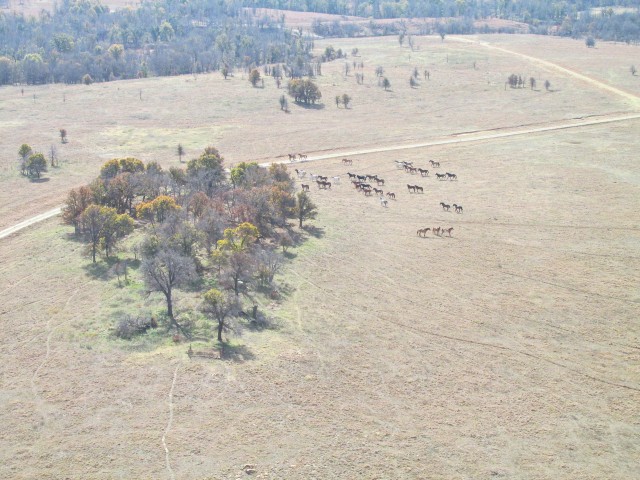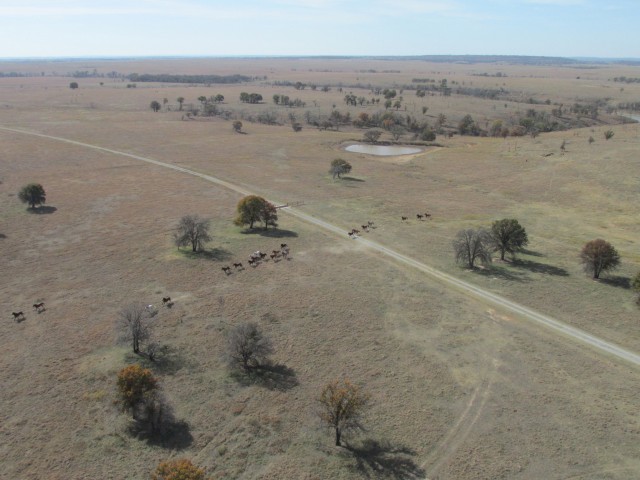 Time To Recon Again
After flying over the Mustangs, I should have been seeing Hominy, Oklahoma. I had been flying long enough at an average 40 mph ground speed that it should have been visible but no town was in sight. I decided to land on another oil field service road and see where I was. Frequently on flights this 2012 season, even though I have followed my GPS carefully I have still missed these little towns by 5 miles or so. Earlier in the Summer, I had decided I had a bad unit. After all, I bought it used on eBay. Maybe the guy unloaded a turkey on me. This flight, though, introduced a gnawing sensation that my problem just might be the result of "operator error". One of my new Flying Buddies I would meet in Hominy would confirm this for me. More on that later…
I dropped onto a service road, shut down, got out and checked my position. Sure enough… I was 5 miles due West of my destination. I decided to take a picture of the plane before heading East.
Mustang Patrol
After taking the shot seen above of my plane, I was picking my way through the paddies that are everywhere hidden in the shin-high grass. Suddenly some movement caught my eye at the ridge just behind the MXL. From below this crowd of curious critters seen below emerged on the ridge. They were interested to get a closer look at what they had just seen drop into their territory.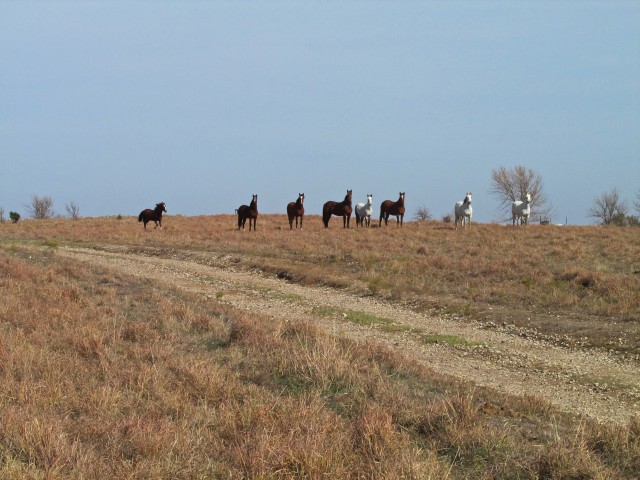 This particular herd was about 30 horses and was spread out quite a bit. I was hoping they would come over closer but they stayed about 50 yards from the back of my plane. While waiting for the stragglers to join the group, the leaders stood quietly looking the plane and me over. The shot above was taken from behind the airplane as I slowly walked toward them. I had this idea that they would let me pet them on the head (Really… I did…). I even sang a little to them to see if it would cause them to trust me as I approached. The singing did not impress them. They started to back up. In reaction, I also backed up so they wouldn't leave and took the picture seen below with the Quicksilver. In order to get as much in the frame as possible I used the wide angle lens. This lens makes the horses appear to be farther away than they actually were. Shortly after taking the shot below the lead horse apparently had enough of my stuff and trotted off screen right.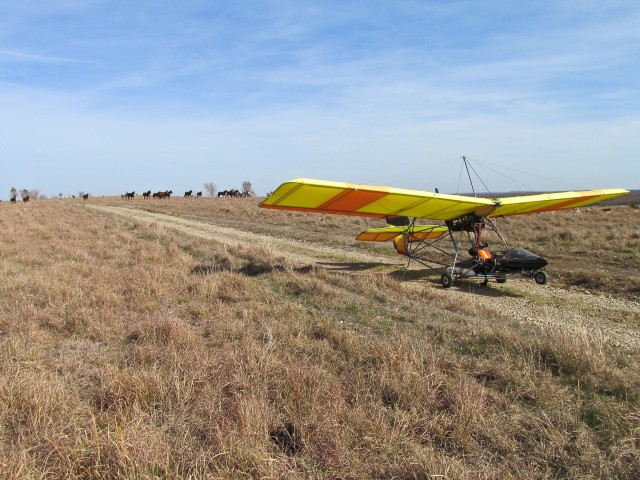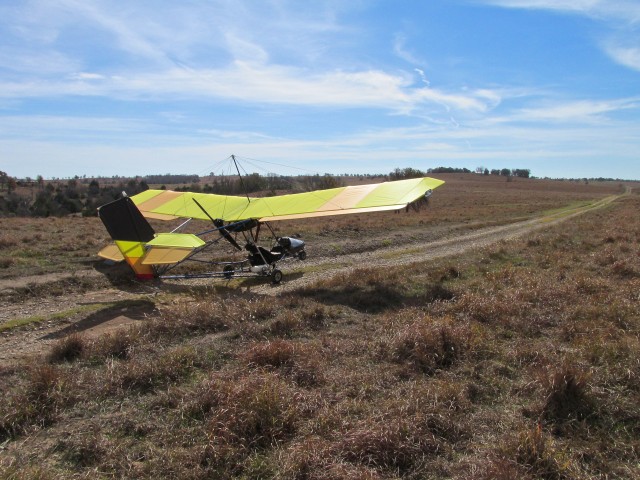 Hoping for another shot of "Mustang Herd and Ultralight on the Prairie" from a different angle I moved behind the plane again. Alas, they had dropped down into the ravine seen just beyond the MXL tail in the shot above. The picture was good enough to leave it in the report anyway. Nice colors!
A "Niche" Town
After that, I started the motor, strapped in and took to the air. Within about 3 minutes of flying due East I saw what had to be Hominy in the distance. Very interestingly, it was hidden by a long North/South ridge like a castle wall except at one point where the ridge dropped down dramatically. It appeared to be an entrance through "the wall" to the town – a good sized niche. I took about 10 shots to make this more apparent but none came out that well. At that time in the day, the air was quite turbulent. Even so, the photo series below gives you a fair idea what I saw as I approached the town.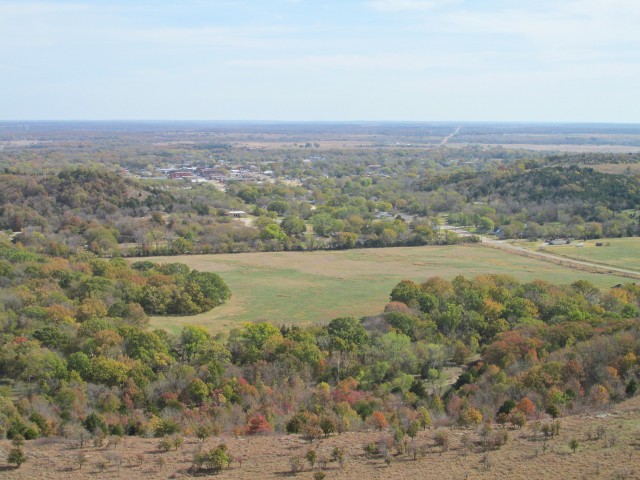 The Grand Entrance
When I come to a new town my method is to make a "grand circle" around it to get pictures before landing at the airport. In this case, I entered through the "niche" on the West side of town, made my way South along the ridge, then cut East around the South edge of town, finally heading North to land at The Municipal Airport.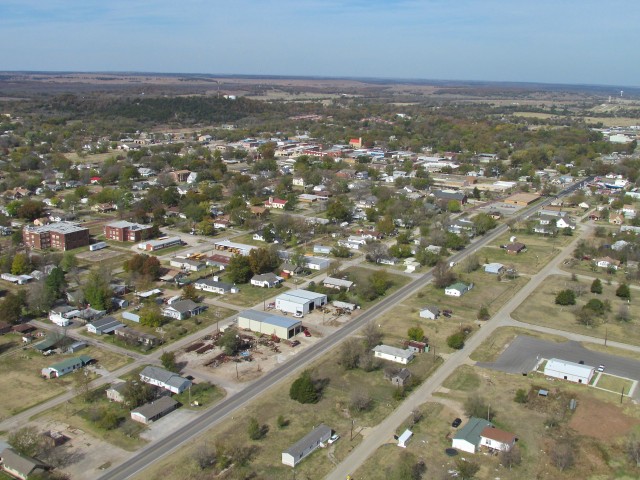 Airport In Sight
Having completed the circumnavigation of the town it was time to land. The airport was just where it was supposed to be. I took the one shot seen below before settling down to the business of looking for potential traffic and accommodating the wind and turbulence that had become significant by that time. It was 12:30 pm.
 Destination At Last
While in the pattern I saw activity around a Cessna that was parked on the ramp. We had waved at each other but after turning my motor off and getting out of the seat I noticed there were no tie-down ropes. The wind was now strong enough that I wasn't going to walk away from my plane without tying it down. I carry straps for this purpose in a pack behind my seat. It took me about 5 minutes to get the plane secured before I was able to go over an introduce myself. The timing of my landing was fortuitous because Veterinarian Tony Small and his wife Kristi were just there for a minute dealing with a flat tire before heading back out into the field to work. From Afton, Oklahoma, they were in town "preggin' cattle" at two of the very large ranches in the area. I asked if they would mind me taking the wide shot below of them with their airplane in order to make the "flat tire" story complete. They laughed and said it didn't matter much one way or the other. We talked for a little bit and then they jumped in their client's pickup to find a place to fix the tire before getting back to ranch work.
 Fuel To Keep The Fire Alive
My first order of business after bidding the Small's adieu was to fuel up. Prior to flying to any airport I check the availability of petrol. Most small town airports do not have fuel available on the field but Hominy does. It is dispensed from the pump you can see in the background of the shot below. The methodology at this field is to call City Hall and they send a city employee over to unlock the pump and take the money.
Don't Bank On Machines Or Weather Reports
Before too long, Jason May showed up in one of the town's pickups. He introduced himself, had the key and promptly put it in the register so we could get me some gas. Unfortunately, the system malfunctioned. Try as he might, Jason could not get the thing to work even though it had fueled up a plane the day before. He was very apologetic but I said "Not to Worry". Automobile gas works just fine in my Rotax engine so I asked if he wouldn't mind giving me a ride to the filling station and back. Jason: "Would Be Happy To Oblige."
The Scenic Route
Usually I will walk into town, wander around a bit and take pictures of interesting things I see. This day since Jason was driving me into town anyway, he agreed to take me on "the scenic route" to the gas station so I could learn more about Hominy, Oklahoma.
Grits Genesis?
After jumping in the truck the first thing I needed to solve was the answer to my burning question, "Is This The Town Where Hominy Grits Come From?". At first Jason wasn't really sure what I was asking him. He knew what grits are and knew that hominy looks like "big corn" but he had never considered either of them as having much to do with his home town. At first this brought disappointment. Then I learned that "Hominy" is the English equivalent of the name of a Chief of the Osage Indians. His tribe had been moved to this area from Kansas in the late 1800's. Hominy means literally "Walks in the Night" or "Nightwalker". I like how that turned out because having the name of an Indian Chief is a much cooler legacy for the town than to be named after a mere breakfast food.
 The Drummond Ranch
As we passed the house shown above I remembered The Small's asking me at the airport if I had ever heard of the Drummond Ranch. They had worked on it the previous day. I had not then heard of it, but I have now. It is one of the largest ranches in Oklahoma and was established in the early 1900's by a Scottish immigrant named Frederick Drummond. The 4th generation of Drummond's own and operate the ranch today.
 Cha' Tullis
Cha' Tullis is an Osage artist who lives in Hominy and has the gallery seen below. I went on his website and was impressed with his work. You can see some of it HERE.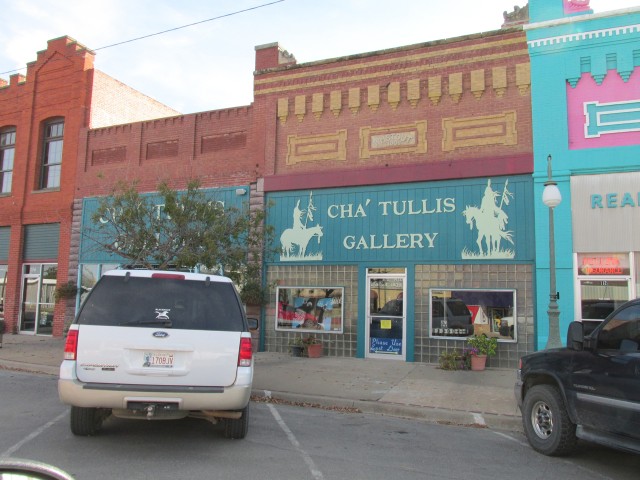 Small Town Advantage
As we drove around town I discovered that my host, Jason, had grown up in Hominy. He said he pretty much knew everyone in town. This was immediately verified as we pulled into the gas station. We had the pickup windows down and even before we came to a stop a guy in the next lane recognized Jason and they picked up a conversation from earlier in the day. After that guy left, another fellow who was on foot and cutting through the parking lot stopped to converse with Jason also. As he left, Jason told me they had gone through school together. Soon after that a van full of Hominy Senior Cheerleaders pulled in for a coke. Erin, shown below, ran over to say hi to Jason. By then I realized I had a "story angle" and asked the two of them to pose for the picture below. He told me later that there was a big rally taking place that evening for all the Seniors. All this social activity happened in the time it took me to put 5 gallons of gas in some containers. Small towns are great that way. People know each other.
 Back To The Airport
I finished filling the gas cans and mixing in the 2 stroke oil. It was time to head back to the airport. When we arrived I unloaded the gas from the truck and thanked Jason for his help. There was a car parked outside the hangar that hadn't been there when we left. I could hear some work being done inside. As Jason said goodbye and jumped in his truck to leave, out of the hangar came Jerry Jackson. He introduced himself and said "Hey, come over to the hangar. I think you will like this". So, I went to the hangar with him. Here is what I saw.
Ultralights, A Powered Parachute and an Ercoupe
Jerry was right. I did like it. The lone hangar at Hominy Municipal holds a variety of interesting aircraft of which I am quite familiar. Jerry told me he had recently bought the Ercoupe but over the last number of years had done most of his flying in his Terratorn Tierra (now known as "T-Bird"). In the service sector of the Petroleum Industry, Jerry had at one time been a professional pilot. It was amazing how similar our flying experiences have been. He knows a lot about Ultralight Flying. We also know a lot of the same sport flying folks in the Tulsa area. It was there I had shot parts of my first and second aviation documentaries in the 1990's.
 The Tierra
Another thing Jerry and I have in common is the T-Bird. The big difference, though, is that his flies and mine has yet to. I have had a 70% finished T-Bird II in my garage and spread all over the house for about 7 years now. Until, or unless, I get my own hangar, though, I don't have a plan to get it completed.
 Tailwinds Galore!
After touring the hangar it was time for me to take off. The reason I took no more pictures on the ground before takeoff is that it was very windy by that time. I am fortunate that Jerry was there because I really needed his assistance to keep my plane from blowing across the apron. There was a very real possibility a gust could pick up one of my wings and flip the plane over. So, after re-fueling I started the motor. Then, while Jerry held the "up-wind" wing I quickly released my tie-downs, put them in my back pack and seat-belted in for take off. I waved goodbye to Jerry and turned immediately downwind to the end of the ramp. I checked for traffic. There was none in the area. Then, rather than taxiing out to the main runway I turned into the wind, fire-walled it and was airborne in seconds. When it is windy, a runway for my Quicksilver is any stretch of flat surface of 30 feet length… I waved goodbye to Jerry and headed North.
Prison
While driving around town with Jeremy I had asked if there were any other noteworthy sights in the area. He pointed North and said I could get pictures of the Osage Casino and the Prison. Both are just outside town, North Northwest of the airport landing pattern. I grabbed a shot on the way by.
 Over The Rolling Prairie Again
A few minutes past the Prison and I was in The Wide Open Spaces again. As I have mentioned, the tailwind was quite substantial. I calculated it at 22 miles per hour. This was a good thing except it wasn't directly behind me. It was coming out of the Southwest but I was coming out of the Southeast. This made it a quartering tailwind. It's better than nothing, but with my slow flying machine, that situation requires a significant crab angle. At times the nose of my plane was at least 30 degrees yawed left from my ground path – sometimes more. The Sky Surfer thrives on this stuff, though. In the manner of surfing Wimea Bay, it was a "Yellow Flag Day". Experienced Surfers Only.
 Hard To Make A Living Out Here
In this area, the scenery is spectacular but the absence of cattle or crops makes it tough to make a living out here. That's why you don't see many houses. There is one saving grace of this territory, though: Oil. But people need to remember: Drilling for it is one thing. Finding it is another.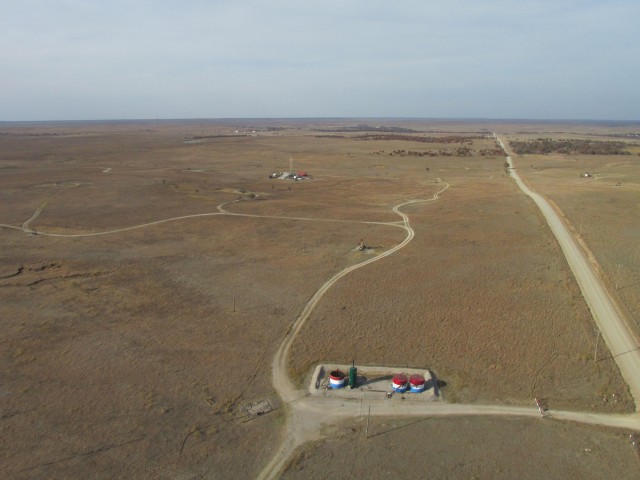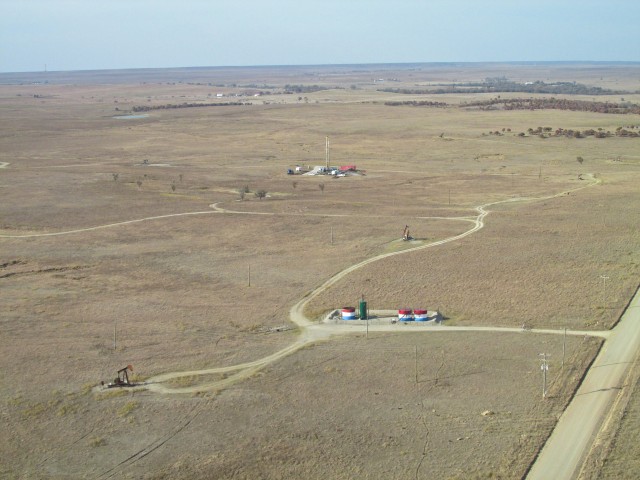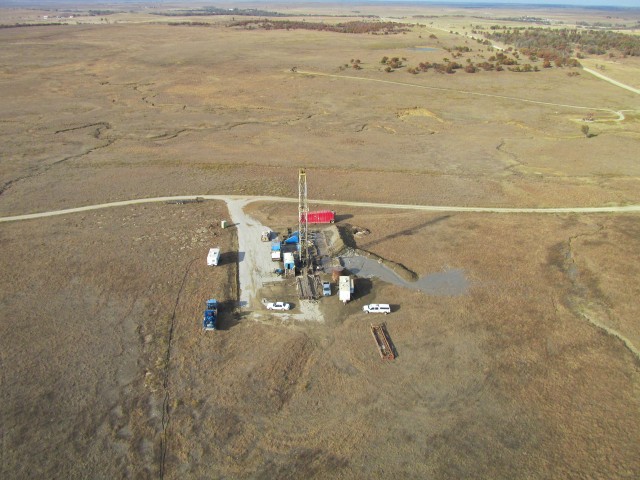 We Meet Again!
After passing over the drilling rig I went on with nothing but beautiful, stark landscapes to accompany me. The air was very active, so I had plenty of "stick and rudder" work to keep me occupied. When leaving Hominy Municipal I had to cut East of my planned route so as not to fly over the prison. This and the continual gale out of the Southwest caused me to make my return trip farther East than which I had come in the morning. Excellent! I would see new things.
I tried different altitudes in order to see which would give me the best tailwind payoff. Usually it is better at about 1500′ AGL but, strangely enough this afternoon, the lower I flew the better the "boost" was. Of course, down on the deck I couldn't see as far ahead. About 15 minutes after passing the oil drilling location shown above I saw the telltale signs of The Mustangs. It starts with what looks like a dust devil dancing on the dry land. Having seen this before, though, I guessed it would be a herd of wild horses. It was.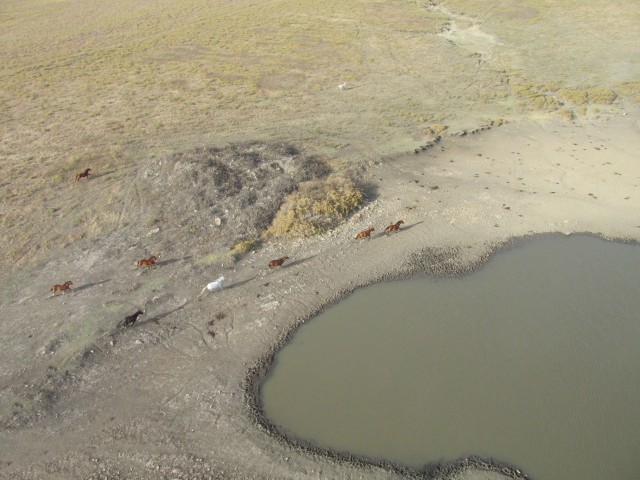 A NOTE TO HORSE LOVERS
In case I am giving the wrong impression with these pictures, I want to make something clear. These horses LOVE to run. Nearly always when I see them way off in the distance, they are running. When I get closer they notice my Ultralight but it doesn't seem to matter to them at all. These herds are just out enjoying the day in the way they know best: loping along the prairie at cruise speed. As often as not, they are galloping toward me or crossing my path. Because I have to conserve fuel on these flights I can't make maneuvering turns in order to get better shots of the herds. What you see in these shots is the way the different groups were heading when I happened over them. To sum it up: My flying over them is not causing them any strain. On all my flights, I am careful to keep livestock from any anguish. The Mustangs are no exception.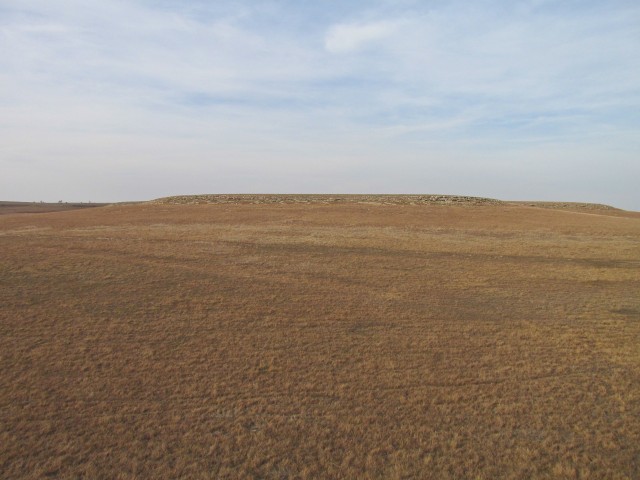 Rocky Terrain
Particularly when heading Southerly from my field, I will happen over rocky areas like the one shown below. While not particularly fruitful for farming or ranching, these zones are quite attractive to look at from the air. The stones outline the edges of the surface contour and announce intelligent design.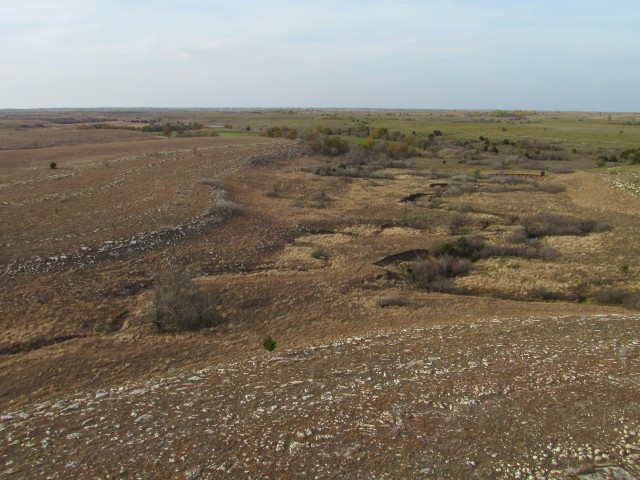 That being said, you can tell when people have temporarily upset this perfect tableau. The shot below indicates what I am saying. At first I thought I might be seeing signs of an abandoned town or homestead. Then I realized these must be old rock quarries.
 Suspicion Confirmed
About 5 minutes after passing over the abandoned quarries I flew over an active one. They use large Front-Loaders and ease the forks under the layers of stone and then snap off pieces that they pile up to transport away. As I passed over I tried to get a closeup of the Front-Loader and a large pile of ready rock but the camera did not co-operate. If you look closely, you can see the Loader in the middle of the lot below.
Back In My Stomping Grounds
By flight time and by the look of the landscape, I could tell I was getting close to the Ark City / Winfield, Kansas area and Strother Field, which lies between them. The Walnut River passes next to both of them although it swings out about 10 miles to the East when between them. As I crossed the Walnut I pondered my fuel situation. Although I had received a significant boost from the Southwest tailwind, the air was mucho turbulento and required a higher power setting than I generally use for maximum range. The good thing about my Quicksilver is that the fuel tank is right above my head, easily visible. It is translucent and you can see exactly how much gas you have. The thing was, it looked like I had a gallon left but with the turbulent air it was hard to be precise. I was about 6 miles Southeast of Strother when I crossed the Walnut River. I had to decide if I would "go for it" and try to make Selby Field with the gas I had, or be prudent and land at Strother Field to get some more. I dithered around deciding about this until I was directly East of Strother Field. I am happy to say the "prudent pilot" part of my brain took over. I changed course to land at Strother. By that time, this put me into a quartering headwind to reach the field. My ground speed dropped to about 18 mph as I entered the pattern.
 Whoa Nellie!
I could tell this was going to be an opportunity for me to prove my "stick and rudder" talent. Later that evening I checked the weather stats for Strother Field during the day. The wind at the time I landed was out of the South averaging 28 mph with gusts to 36 mph. The MXL has plenty of strength and control authority to handle these conditions and I have flown in similar "stuff" many times. Landing would not be the issue – Taxiing Would. The reason my plane is called an Ultralight is because IT IS. The main concern after landing was to keep the plane from tipping up on a wing. Sure enough, just as I turned East off the landing strip a gust caught my right wing and lifted the right main gear about 6 inches off the ground. I was ready for it, though, and immediately turned away from the wind. That stopped the "wing lift" but now I was getting severe control buffet from this tailwind as it flopped my large rudder and ailerons around. Having been to Strother many times my plan was to taxi to the North end of the long row of T-Hangars at the North end of the field. I was going to taxi the plane to a "wind shadow" behind these hangars so I could get out of the seat and add more fuel. If I wasn't confident enough of this working by the time I got in "the shadow", I was going to throttle up and head over to Cherokee Strip in Udall, Kansas and hunt some gas down there.
The plan worked.
Flashback To The 80's: Some Days It's Too Windy To Fly Kites
It might seem like I am making a big deal out of nothing regarding this "ground handling business". Unfortunately I have experienced first hand the effect of 30 mph+ winds on a parked Ultralight before…
Back in the 1980's, I was flying my MX at The Gliderport which is on the North side of Wichita. The MX was a precursor to Quicksilver's more modern designs like the MXL I fly now. It did not have ailerons and had a rather pronounced wing dihedral to allow turning it with only the rudder and elevator (See HERE). I was out on a cold day when no one was at the field. Unlike now, we didn't have the Internet and all the other weather resources available. I know I could have called the Flight Service Station but the sky looked fine and I just didn't think about it. Anyway, while I was in the air a "blowout" front flew through the region. When this happens around here the air can go from stagnant to 30 mph and gusting in less than a minute. This has happened to me twice in my "fun flying" career. There are telltale signs… One minute it is so calm and stable I am able to control the plane by merely leaning my body. Then, out of nowhere, the wings suddenly tilt at a high angle or the entire plane lurches up or down dramatically or all of this at once. The first time it happened to me I thought I had a mechanical failure and got ready to "blow the 'chute". The confirmation, though, is seeing all the trees and bushes below bending and swaying back and forth from the wind. That's when you realize you should have checked the weather…
Anyway, in this particular instance I landed my MX directly into the wind right next to the hangar door. It was so windy, though, I needed to keep the motor running so as to not be pushed backwards away from that spot and into the tree line. I sat there in this quandary for about five minutes hoping another flyer would happen to show up. Nobody did. Finally the motor made the decision for me. It was one of those junk Cuyuna motors we used to use and the gauges showed it was about to over-heat. I had to shut it off . This made it "now or never". I had to get out of the seat and quickly push the machine into the hangar. I was able to get out and grab the front spar of the right wing. I was working my way out to the tip. My plan was to hold it firmly and swing it into the hangar first. That would put the tail into the wind and then the plane's aerodynamics would be working more with me than against me. I made it halfway down the spar when a gust of wind lifted ME AND THE FRONT OF THE MX straight up into the air. It was decision time and Momma didn't raise no fool. I let go and watched the plane do a perfect 180 degree loop, land on its back and fold up. It was a bad day in the history of Ultralight Flying.
(flashback over – Return to Strother Field…)
The Final Leg
The "wind shadow" thing worked out perfectly at Strother. I added some fuel and took back to the sky. Rather than chance another "wing lifting moment", I checked for traffic, saw none and took off from the ramp on the West side of the T-Hangars. The rest of the flight home was uneventful but changing wind conditions encouraged me of the wisdom of having landing at Strother. As I continued my Northwestern path, just a little past Udall, Kansas, the air suddenly dropped at least 10 degrees in temperature. At the same time its direction swung to the Northwest. What had been a quartering tailwind for most of the flight home had now turned into a quartering headwind. My GPS showed that it was costing me about 12 mph of ground speed. No big deal but if I hadn't already fueled up at Strother I definitely would have had to land and scrounge for gas at Cherokee Strip. They don't have a fuel vending operation there.
Cotton In Kansas
For the last few years when I fly back and forth from Strother Field I have seen the complex shown below but I couldn't decide what it was. Now, having earlier in the morning observed the cotton operations a few miles to the West of here, I realize it is the Cotton Co-Op for the area. Before, when I saw a few of those bales sitting on the ramp, I thought they were lumber or something. Now it is obvious they are cotton bales.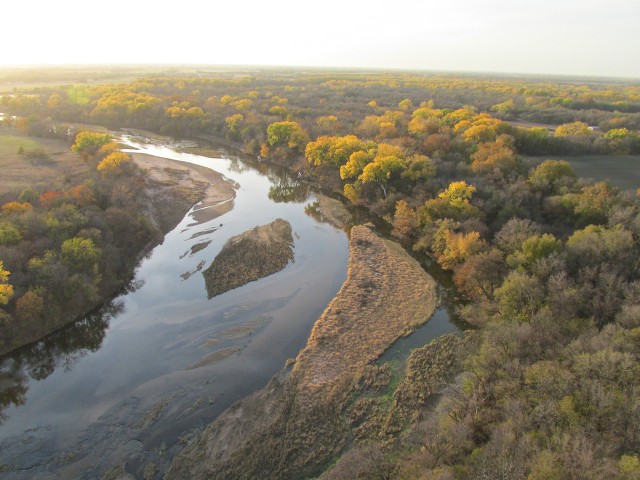 Perfect Timing!
A good ending to an excellent adventure. Hangarmate Don Forse had been preparing to leave when he heard me approaching and re-opened the hangar door. This allowed me to taxi right in and shut down.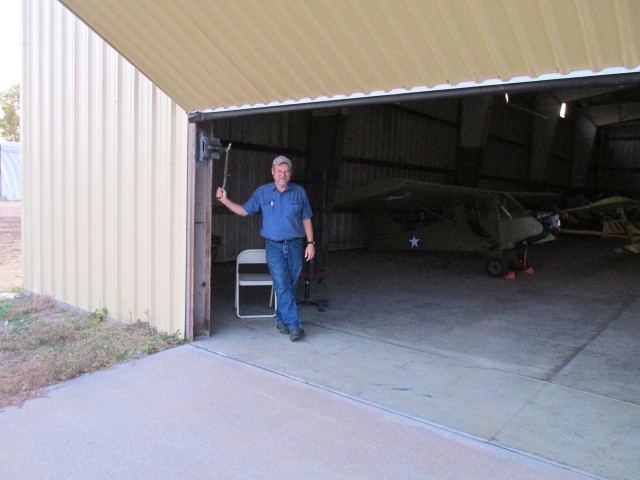 Grits Or Grit?
Even though Hominy, Oklahoma is not the "Home of Grits",  it has an interesting heritage. I discovered a pleasant town where people appreciate "the small town life". I liked it a lot and will return!
Blue Skies & Tailwinds!™
Brian FitzGerald