Weather
Flying is all about The Atmosphere in the same manner that Sailing is all about The Ocean.
Fall in Kansas presents the Ultralight Flyer a variety of weather potentials. As Forrest Gump – Wise Prophet of Old – advised us, "You never know what you're gonna get". It can be cold. It can be warm. It can be windy. It can be calm. It can be humid.
Waynoka, Oklahoma and Little Sahara
Over the Summer a flight to Waynoka was in the plans. A distance of 108 miles from my home field, it would be at the limit of my fuel endurance. Because of this I was waiting for the right atmospheric conditions to make this run. A slowly rising Southwest Wind would be required under which I could fly on the way there and that would give me a tailwind boost on the way home. The day before that Saturday Flight the Weather Soothsayers predicted the air I needed, so I prepared for the journey. Prior to doing my Fun Flight research, I knew nothing about Waynoka – at least not by name.
A year ago when I told people about my flight to the Salt Flats next to Cherokee, Oklahoma ("Salt Flat Safari"), just about everybody said, "Oh, did you see the sand dunes?". At first I thought they were just flat confused. "Salt Flats" seems kinda like "Sand Dunes" if you are not listening carefully… Then I learned there are sand dunes in Northern Oklahoma. Frankly they aren't that close to Cherokee but that started to make sense. I had also heard of The Annual Rattlesnake Hunt  in that area but had never connected it to Waynoka. So, all that – and more – would be revealed as this trip unfolded.
Unusual Sight
After takeoff I noticed the hanging fog evident at my airfield was not a solo occurrence. I have lived in Virginia, Oregon, California and Missouri in parts of those states where morning ground fog is common. It is not a sight common to South Central Kansas. Coming off the Arkansas River, enhanced by the light of the rising sun, this fog was a sight to see. For a moment, I had to turn away from my direction of travel to capture these next images.
Getting Down To Business
After passing over The I-35 Turnpike and the relatively dense rural habitations just Southwest of Selby Aerodrome, I settled down to a cruising altitude of 200′ to 300′ AGL.
First Sighting
About 15 minutes into the flight I made my first wildlife sighting. Three deer were milling about on a country road. I banked right to get a better look at them. Their choice of position had left them no cover so they circled around the tree row seen below. This is an object lesson as to why Infantry are at such a disadvantage to Airpower.
Red Dirt Country
Horizontal Drilling / Fracking
Between Anthony, Kansas and Cherokee, Oklahoma is an area that has seen a dramatic increase in oil exploration over the last five years. Below is my attempt to give you a panoramic view of part of this area just South of the Kansas / Oklahoma Border as I entered it from the Northeast. In the foreground and in the distance, any bright white color you see has to do with oil and gas. I will be showing a number of these installations as the flight continues.
Flowers?
This next shot is the best I could do to present an amazing situation I had never encountered before. The photo below was of the second field I passed over featuring this phenomena. It took that long to get the camera ready.
Here is what I saw… As I first came upon the field, it seemed to be covered with little white flowers. They were attractive but too small and not sufficiently bright to warrant a photo. Then, halfway across the first field, I realized they were not flowers but butterflies! Because of the brightness of the sun they show best in the shadow of my airplane. Then, if you look closely, you can see them equally arrayed over the entire field. I think the crop is alfalfa.
Flaring has become controversial but its opponents mis-state the issue either out of ignorance or a desire to mislead. Environmentalists are suing oil companies for "wasting" gas when they have to flare it. The fact of the matter is that oil companies flare gas only as a last resort. If they made even a casual attempt at understanding the oil and gas business, enviros would realize that petroleum people would love to make money off the gas but sometimes it is not possible. Pipelines are very expensive and cannot be laid without significant return on investment (ROI). Alternatively, the equipment required to compress gas for storage and then transport it is costly and warranted only over a large discovery where no pipeline can be utilized.
Safety
The overriding issue for producers is one of safety. When drilling for oil, most of the time gas is present. Obviously it is highly flammable. If allowed to escape into the atmosphere, the results can be disastrous. If gas leaks, fire or explosion is the rule. Flaring at a wellhead is the undesirable but necessary method to protect against catastrophe.
Wheat Field Break
I had been flying over two hours and decided to take a break. My favorite landing fields are (mowed) hay and  wheat fields. I was about 8 miles from Waynoka, saw this fine open field and put her down.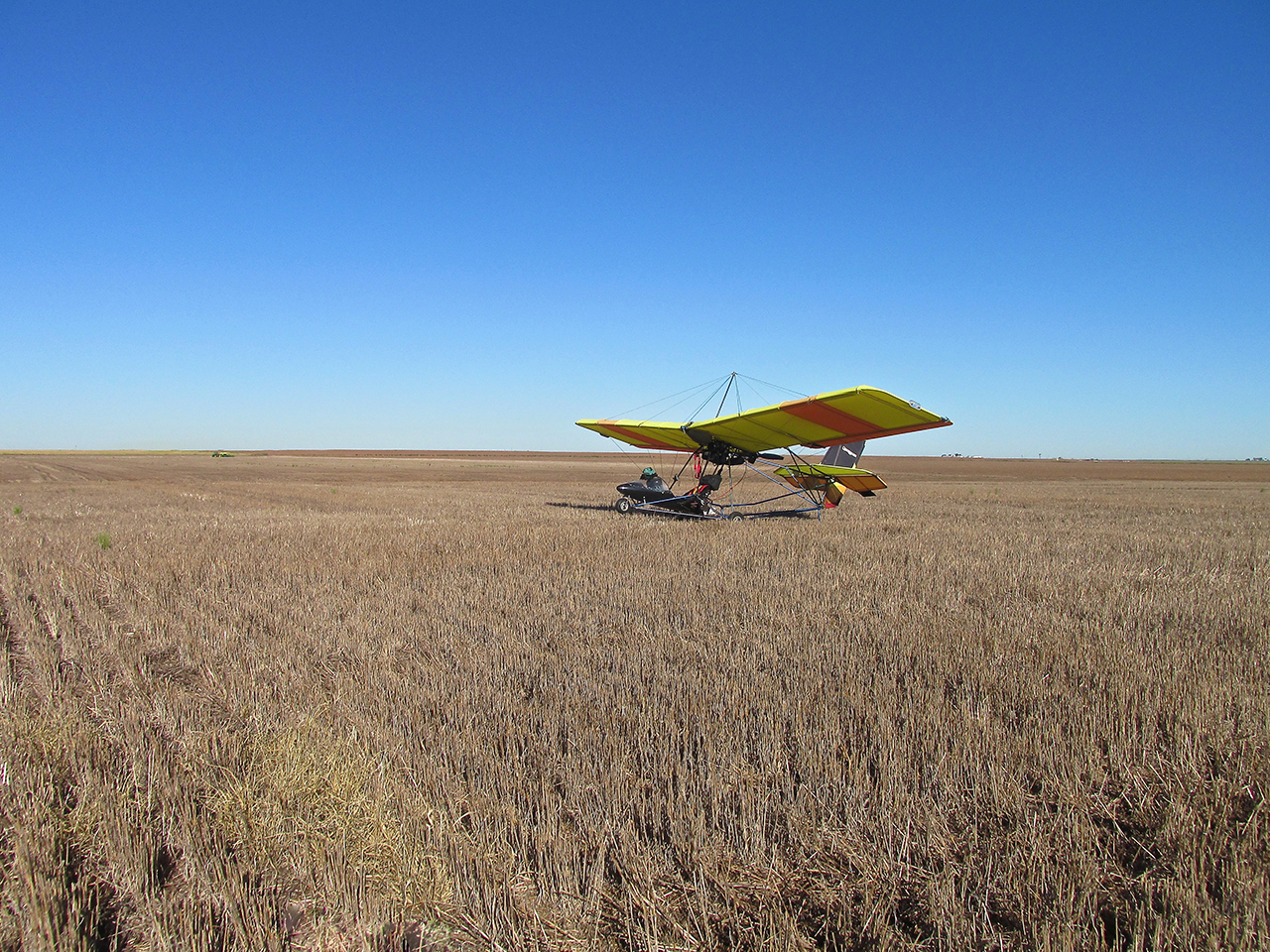 Just Around The Corner
After taking a break (and a couple of "product shots" of my MXL), I checked the paper map to confirm I was only 8 miles from Waynoka – just as the GPS indicated.
Plains to Bluffs
Suddenly the topography changed to these interesting bluff formations. This area had "Cowboy and Indian Movie" written all over it.
Waynoka Ho!
I was flying so low that when I finally came upon Waynoka I could see very little of the town. My SOP (Standard Operating Procedure) when arriving at a new destination is to encircle the town to take photos before landing. One reason I do this is for "safety shooting". By that I mean I get the aerial shots of the town on arrival in case the weather should turn against me while touring the town. A quick egress would prevent the taking of aerials before striking camp and high-tailing it for home. To me, the photo-documentary aspect a flight to visit a new town would be severely lacking bereft of aerial photos of the town in question. So, I always take them when I arrive and then again when I leave.  Since I was approaching from the Northeast and the Airport was on the Southeast side of town, best coverage would be obtained by making a counter-clockwise circumnavigation.
Little Sahara
In addition to the aerials of Waynoka, of great importance was to get photos of the Famous Little Sahara Sand Dunes South of town AND "2 shots" of the City and Sahara together. That's what you will see next.
There were loads of 4-wheelers and motorcycles coursing in all directions across the dunes that morning. When I was a teen, dune buggies were converted Volkswagens. While there are still some of that type around, the field has widened considerably. Some of the 4-wheelers are built ground-up for this purpose. Others are sold ready-to-ride. I shot this series of telephoto pix from 1,000′ AGL.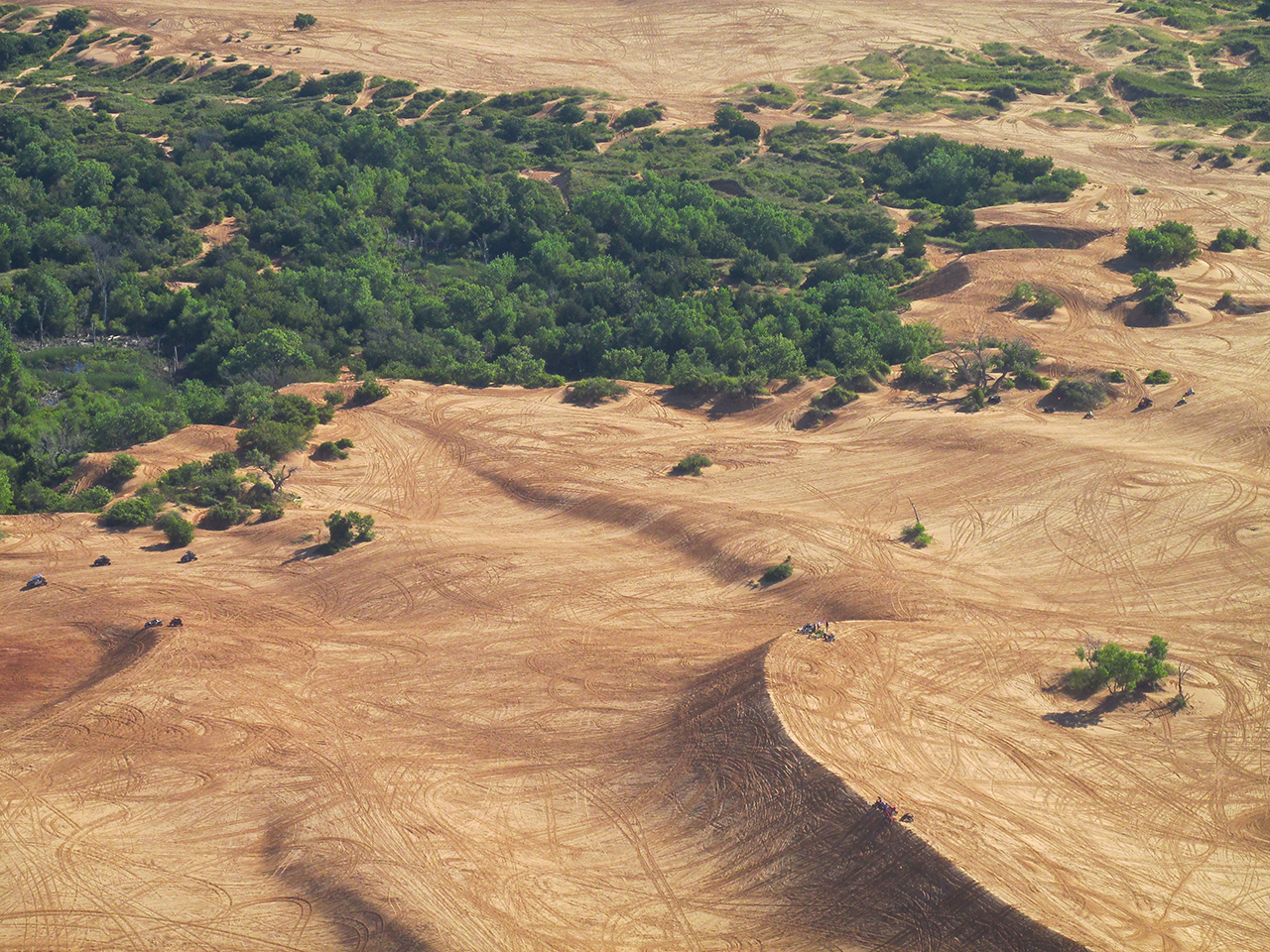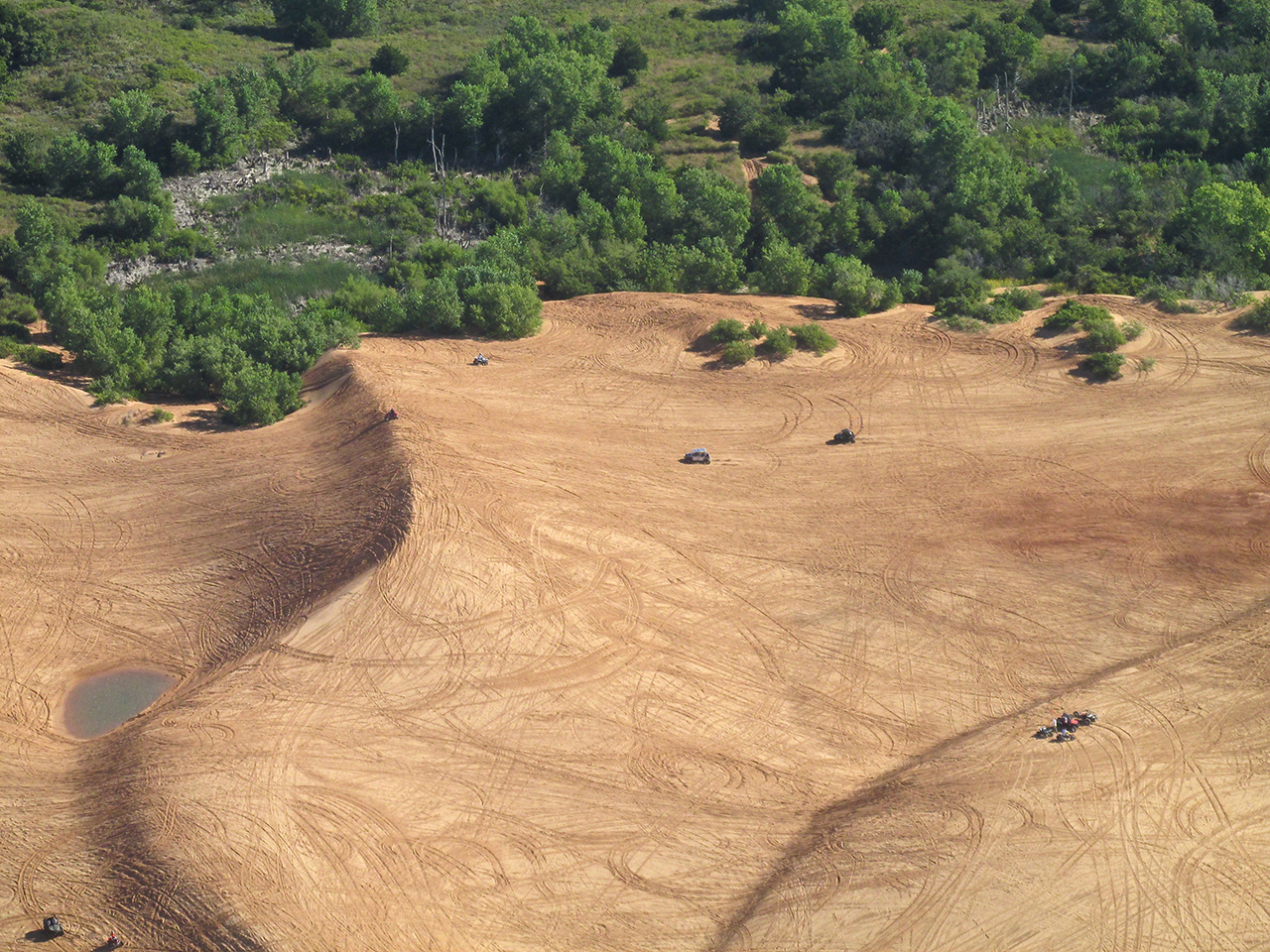 Lower Angle
I was very impressed with all the action of the scene below me and still had some fuel left so I dropped down to 500′ AGL to make some passes across the North Side of the dunes.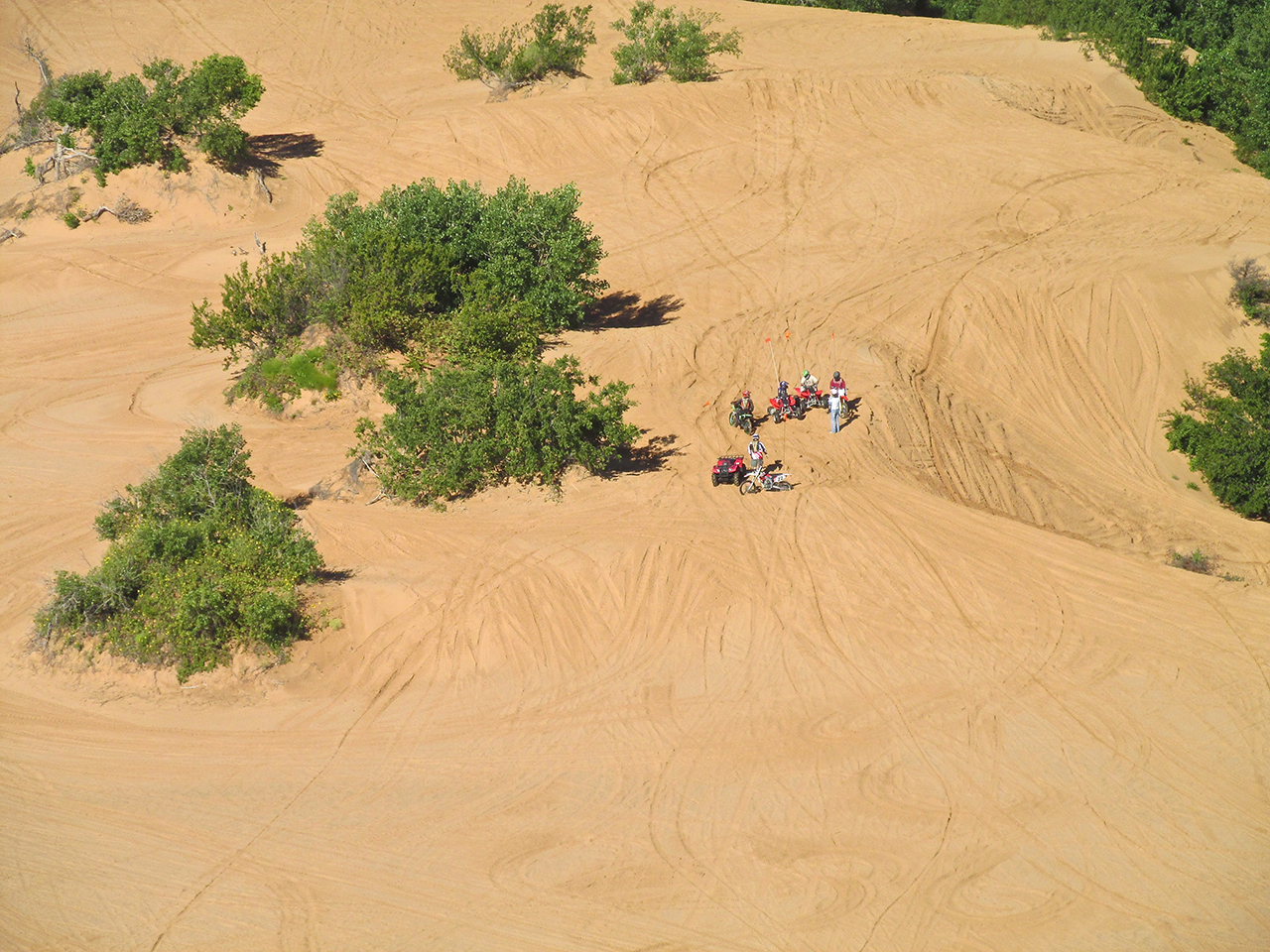 Time To Re-join The Earthbound
I had spent about 20 minutes flying over the dunes and it was time to get a look at Waynoka. Wind was starting to build from the South. I set up for a right hand pattern to land at Waynoka Municipal.
Waynoka Muni
Waynoka has a nice asphalt runway, the grounds are well kept.  The terminal building is in good shape and they have a courtesy car to use. Like a majority of small town airfields, there is no fuel available but I bring my own gas containers which I fill at the closest gas station. The courtesy car really helps in that regard. Otherwise I walk…
Welcoming Committee
While I was tying my MXL down, a car arrived. The driver was Sue Hughes. The passenger was Murphy The Dog. Sue and her husband Dale are recent immigrants from Denver, Colorado. They desired the benefits of "small town life" and had moved to Waynoka six months prior.
Volunteerism
A consistent theme I see in the small towns I visit is the large extent to which citizens contribute their time and effort to various public service committees. Dale and Sue have an interest in aviation (they own a 1981 "T-Tail" Piper Arrow) so upon moving there they joined Waynoka's Airport Advisory Committee. The morning I met them they were hard at the Committee Work of keeping the runway free of intruding plants and weeds.
 Powder Puff Pilot
Sue has a business oriented toward women pilots and female aviation aficionados called Powder Puff Pilot. It features lots of av-equipment, apparel and educational items – many would make excellent Christmas, Birthday or Anytime Gifts. Check out her website HERE.
Dale Hughes
Five minutes after Sue went back to her chores, husband Dale showed up to ask if I needed anything. They were working on opposite ends of the field. Dale is Sales Manager for Brance-Krachy which is a company in Aurora, Colorado involved in power transmission supplies and service. In answer to his question I told him the battery in the Courtesy Car seemed to be low but I had already called the dispatcher and help was on the way. He said, "Good deal. Nice to meet you. I have to get back to work now. Have a nice time in Waynoka." Then he said Goodbye and returned to his work.
Battery Low
After getting my plane secured I entered the terminal rest room to remove the long underwear I had employed to take the edge off the early morning chill. Then I loaded my stuff into the Courtesy Car and turned the key. All the lights on the dash came up, the fuel pump whirred and the radio came on but the engine would not turn. Because it was a decommissioned police patrol car it had some unique buttons about the console. I tried every one I could to see if they were some type of ignition lock but finally decided the battery just didn't have enough amps to turn the motor. I called the telephone number given in the airport lounge and the county dispatcher said help would arrive soon.
Cavalry To The Rescue
Bein's how the Courtesy Car was a retired patrol car, it seemed fitting that two Waynoka Patrolmen came to give me a jump. This situation was fortuitous for them also, as both had been intrigued for years with Ultralight Flying but had not had a chance to see one up close. After starting the car I gave them an in-depth walk around of the Quicksilver and a good discussion of the merits and issues of this type of Sport Flying.
First Things First
After thanking Fike and Marcum, they went back on patrol and I headed into town for some gas. I'm big on prioritizing. Priority One was to transport gas back to the airplane before exploring the town.
While researching before my flight I discovered The Waynoka Historical Society. They are a dedicated and active group devoted to preserving the history of their town. For such a small town they have accomplished much. They have done a splendid job renovating The Harvey House and have also moved historic buildings and railroad items into a convenient outdoor display adjacent to The House. This next series will show you some of these things.
Transcontinental Air Transport (TAT)
Waynoka played an important part of an early 20th Century effort to combine air and rail transport enabling a coast-to-coast trip in 48 hours. The Lone Eagle – Charles Lindbergh – was a member of The Board of Directors. It was he that planned the route. You can read more about TAT HERE. During my research I also found the definitive Lindbergh website. You can see it HERE.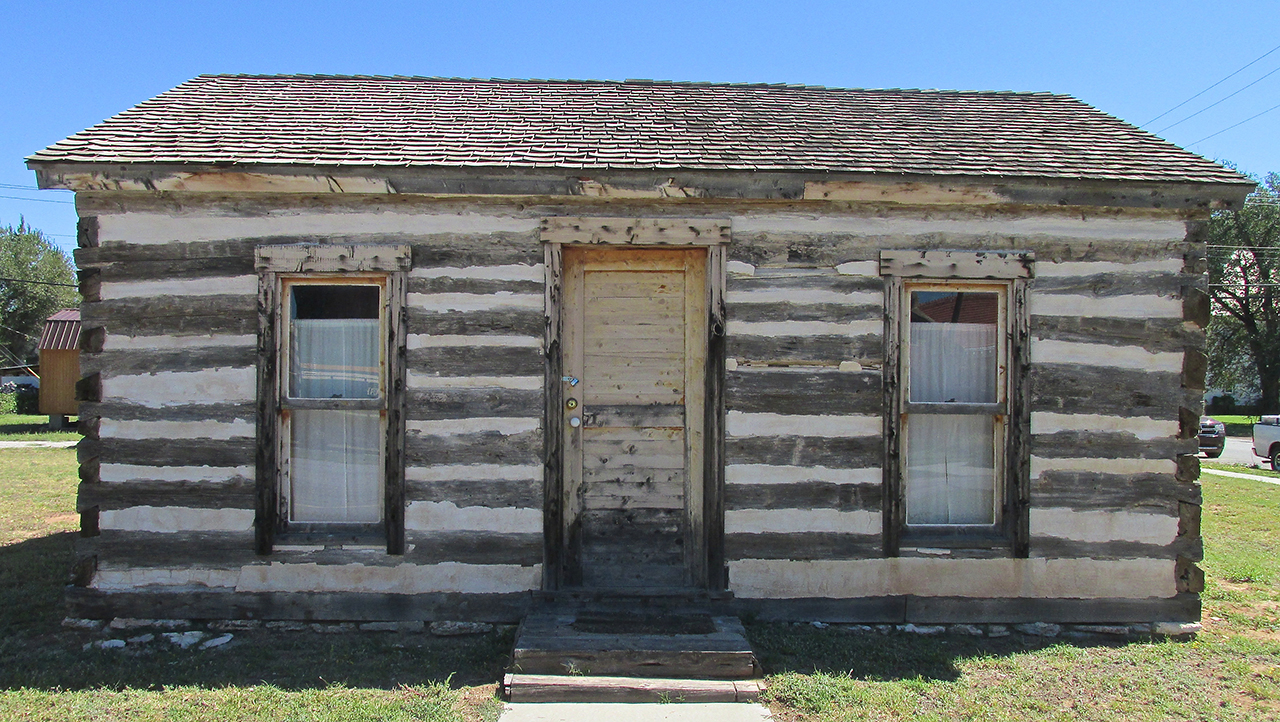 A Project of Chesapeake Energy
The Sky Surfer's Air Adventures are "slices of time". So, what you see is what he saw the day he was there. It is important to point out that the two buildings photographed below are in the midst of a renovation being funded and staffed by Chesapeake Energy. Thus far in the project they have power-washed, scraped and applied the first coat of primer. Another coat of primer will be applied before the final painting is completed. Chesapeake has been of great help to The Waynoka Historical Society in the renovation of these buildings and for the expert landscaping of the Santa Fe Depot and The Harvey House.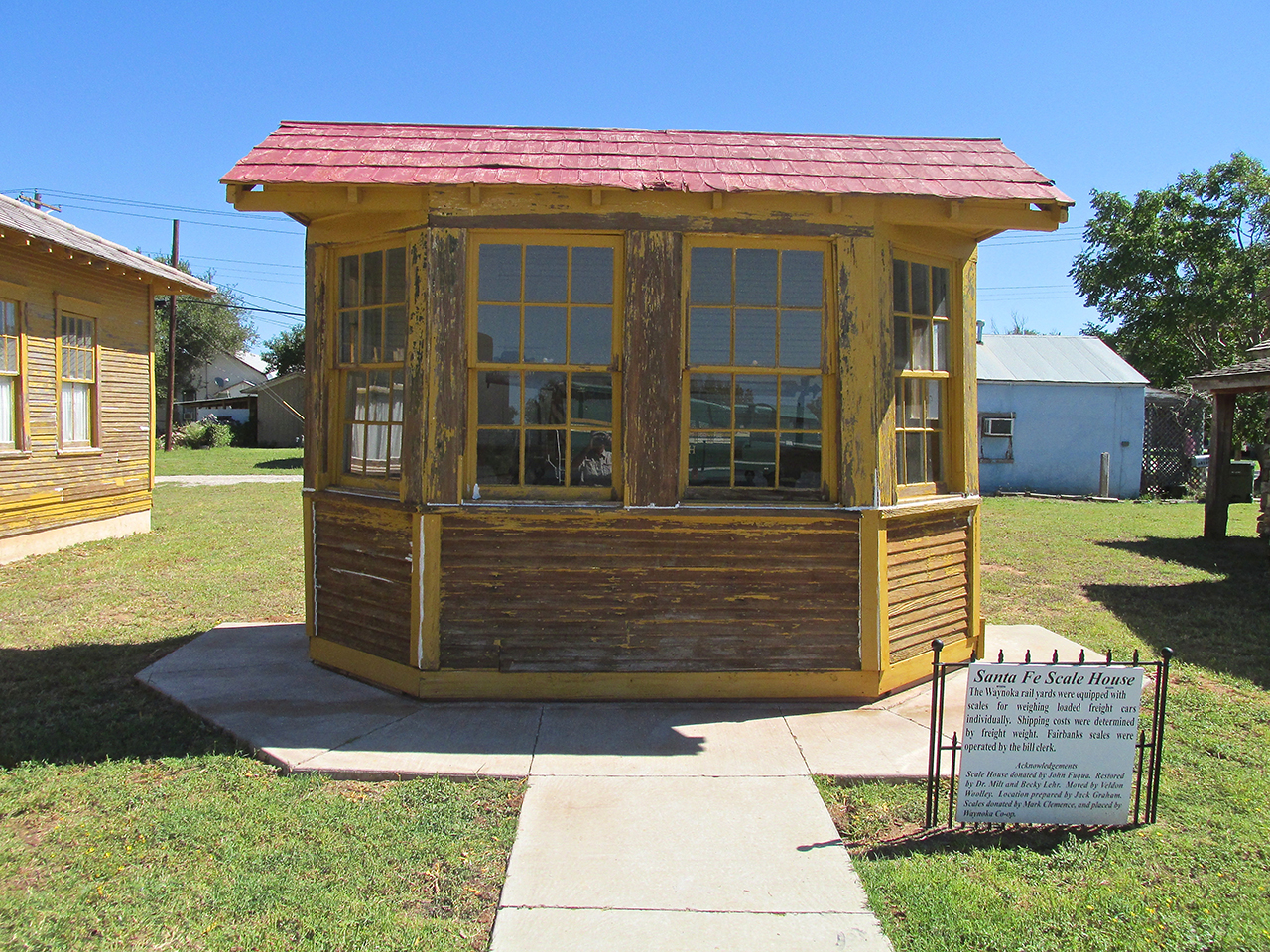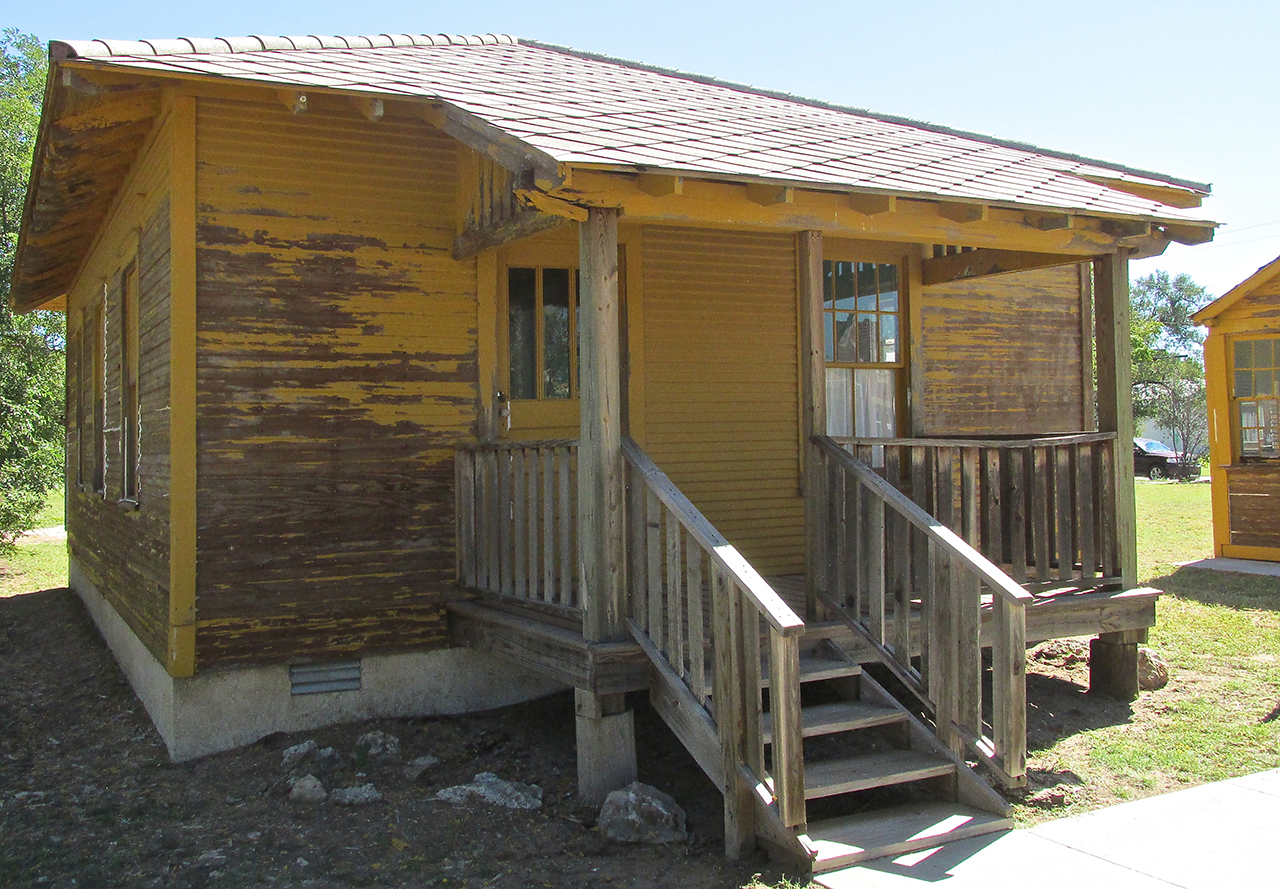 Next In Line
Not ones to rest on their laurels, The Society is moving ahead with plans for the locomotive shown below, finishing the Train Depot Interior and painting The Water Tower. The Locomotive below is slated to be painted in the Santa Fe Warbonnet Paint Scheme in the near future (Warbonnet Paint photos can be seen HERE).
The Waynoka Harvey House
Earlier in the report you saw the aerial photo of this fine building made during my initial pass around the town. An ediface of The Fred Harvey Company, the Harvey House aspiration was "to bring civilization to the wild west". Good food at reasonable prices was served by highly trained, polite staff in elegant surroundings. At the company's zenith, there were 84 Harvey Houses in the country.  More about Harvey Houses HERE.

I'll Be Back
My intention was to tour Waynoka first and then return to The Harvey House for a bite to eat and a look at the museum. So now I will show you what caught my eye around Waynoka.
Brick Houses
I am partial to brick and stone homes. One reason is that they are becoming increasingly rare. Another reason is my memory of The Three Little Pigs. The brick house was the strong house. The next picture was the first brick home on this street to catch my attention.

Solar Power
Then I looked across the street and saw the largest private dwelling solar cell array I have ever seen. If you haven't figured this out yet, I'm not the bashful type, so I knocked on the door to talk to the owner about it. Jim Parks emerged and was quite happy to discuss his solar device. He told me he bought it around 2000, it had been dependable and it would power his whole house – while the sun was shining. After all those years of operation, he was enduring the recent failure of the switch that automatically takes the house from solar power to grid power. Jim said the manufacturer was wanting more money than he was willing to pay so he was in negotiation mode while at the same time looking for an alternative vendor.
Jim had retired from the Hardware Store Business. He was born in Waynoka in 1925 and Served in the Navy's Submarine Force in World War II. I also found that he is active in The Historical Society. He informed me that a considerable amount of money had gone into the Museum. I told him I was looking forward to seeing it and I was heading there after looking around town.
Downtown Waynoka
There are some interesting buildings downtown. It is apparent that a number of businesses are catering to The Little Sahara Crowd. Waynokans appreciate The Sand Duners who visit there.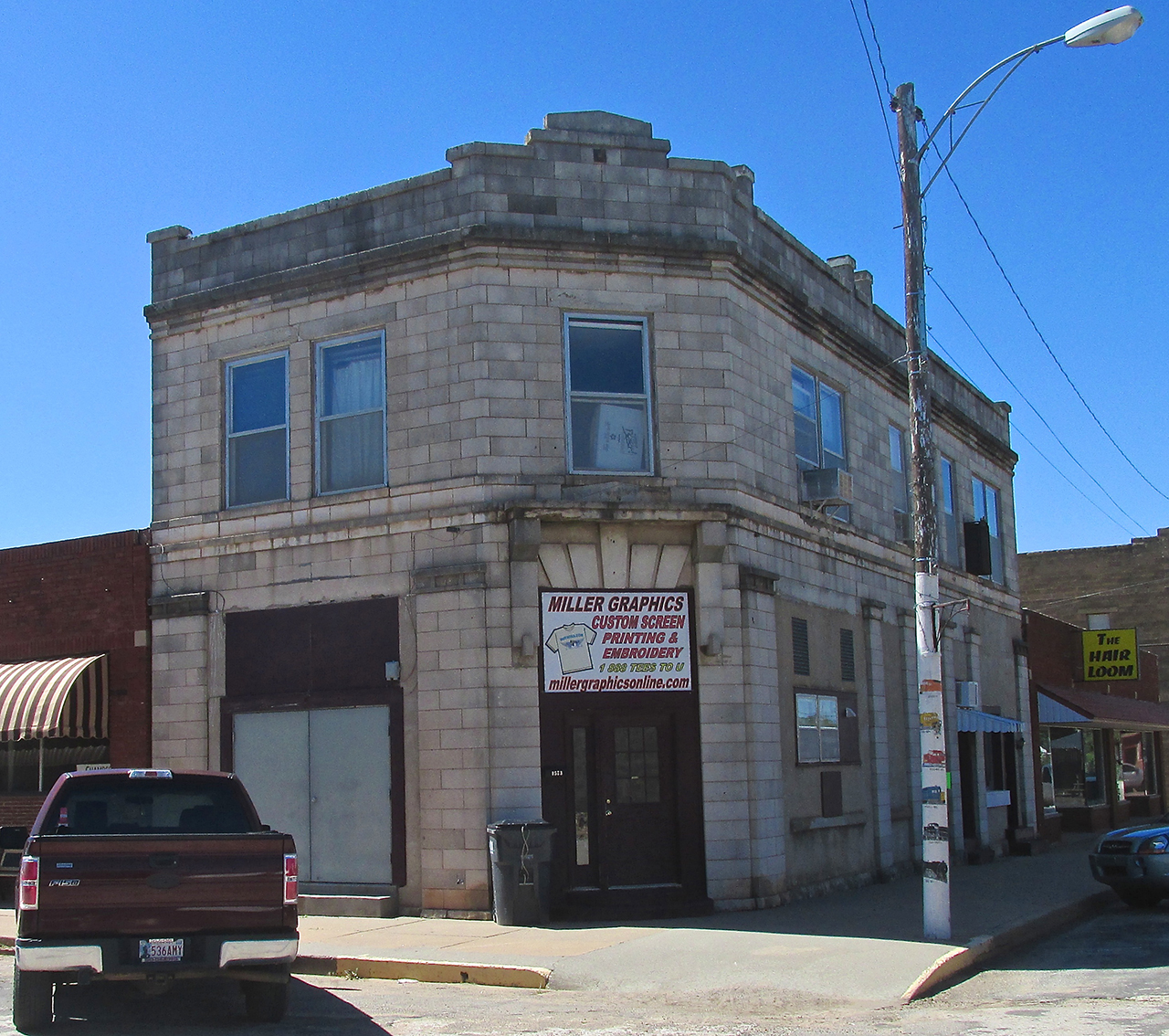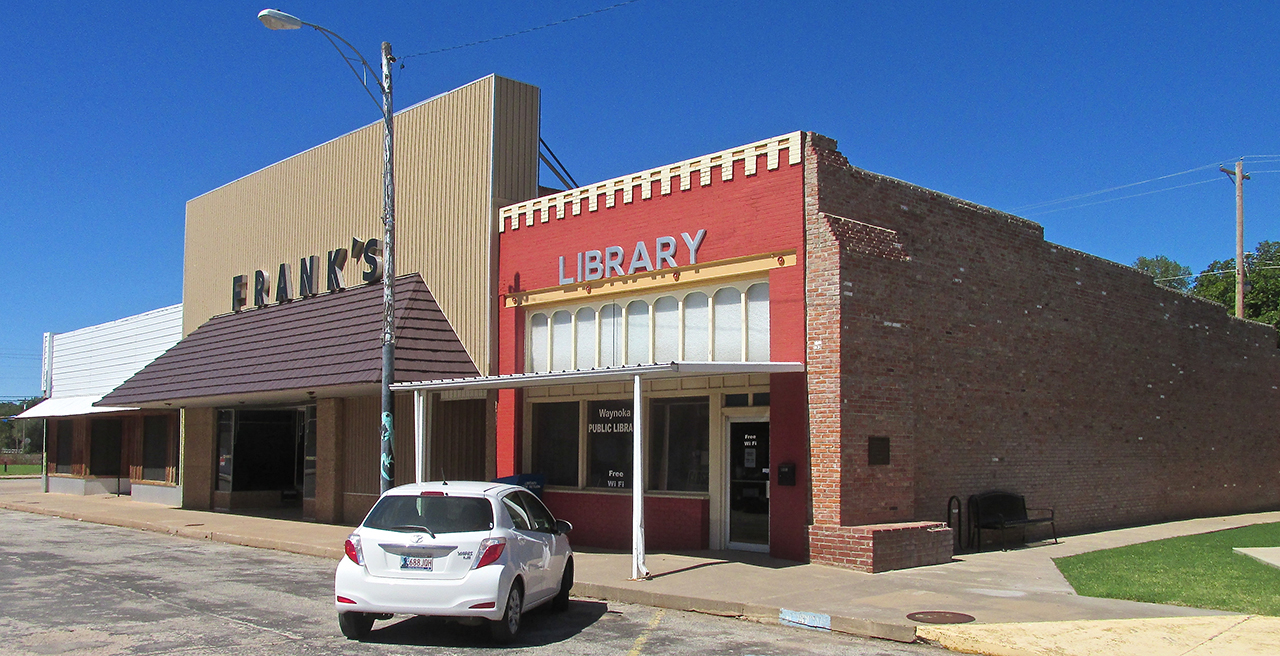 Back To The Harvey House
It was about 1pm and I had not eaten all day. I headed back over to eat at El Charro Restaurant. Then I would go upstairs to look at the Museum.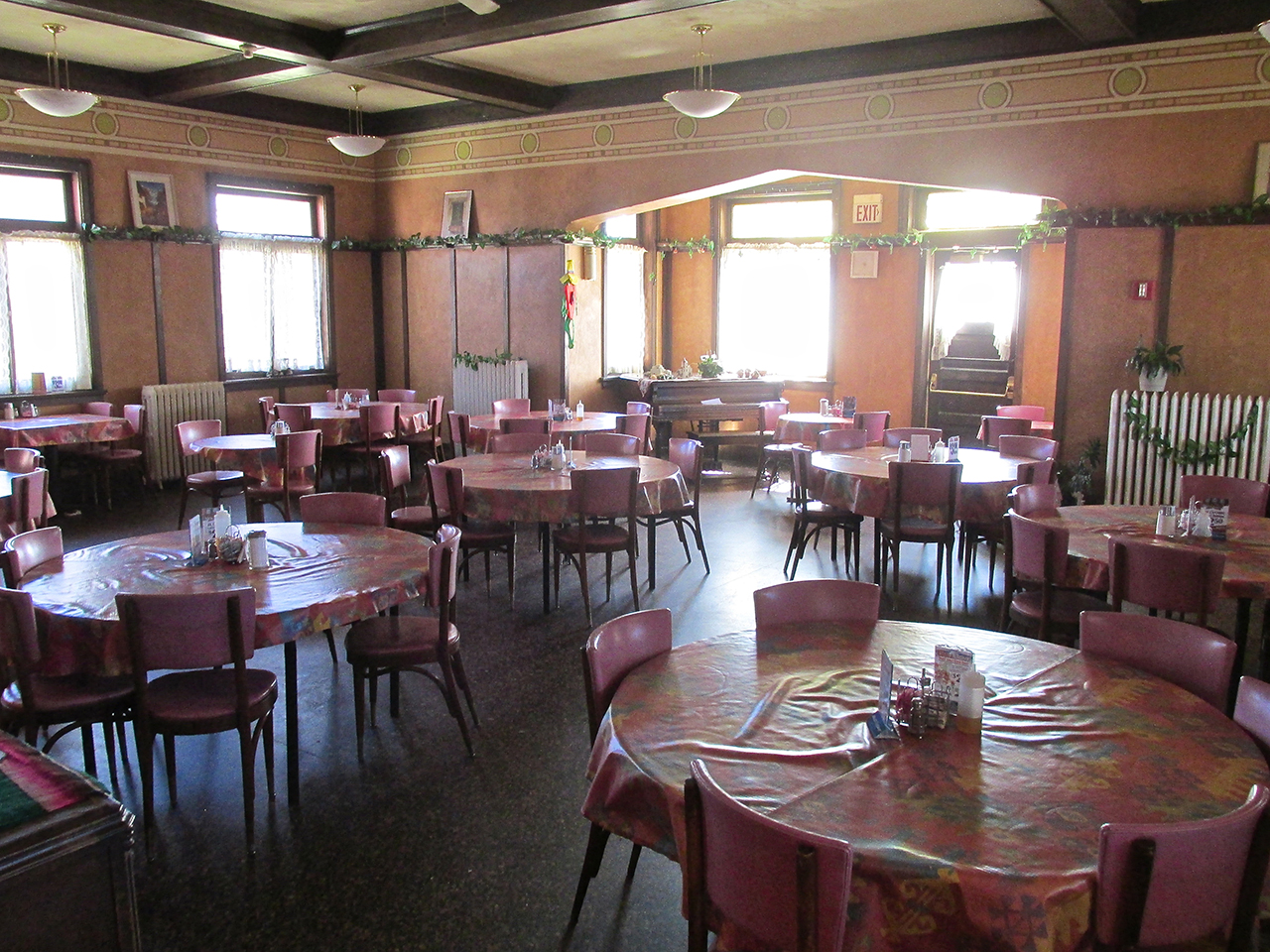 The Museum
On the second floor of The Harvey House is the Museum containing artifacts and information about Fred Harvey's business and Transcontinental Air Transport. It is very modern in design and interesting to tour. There was quite a bit to see but I only took a few pictures to give you a taste of it.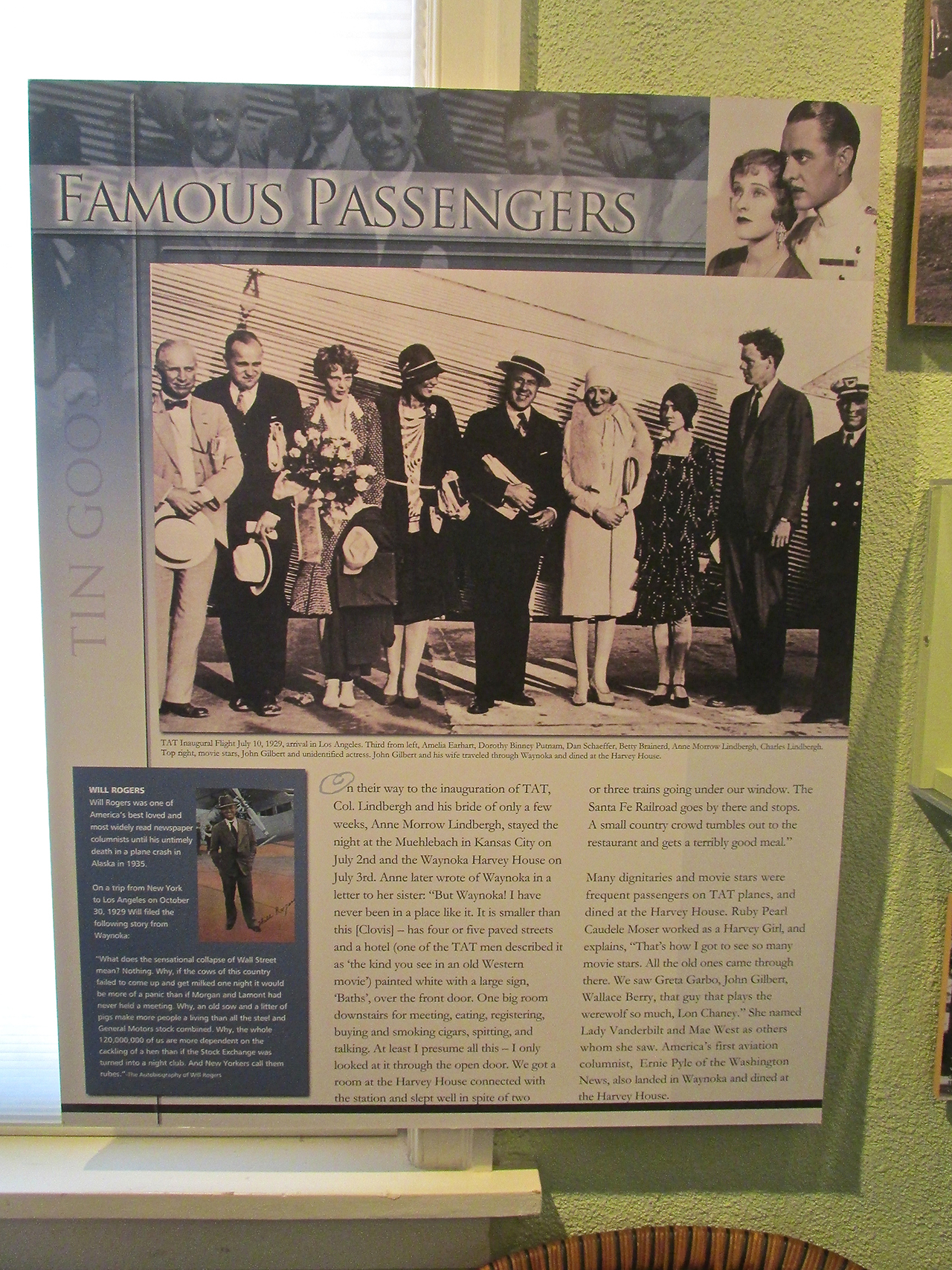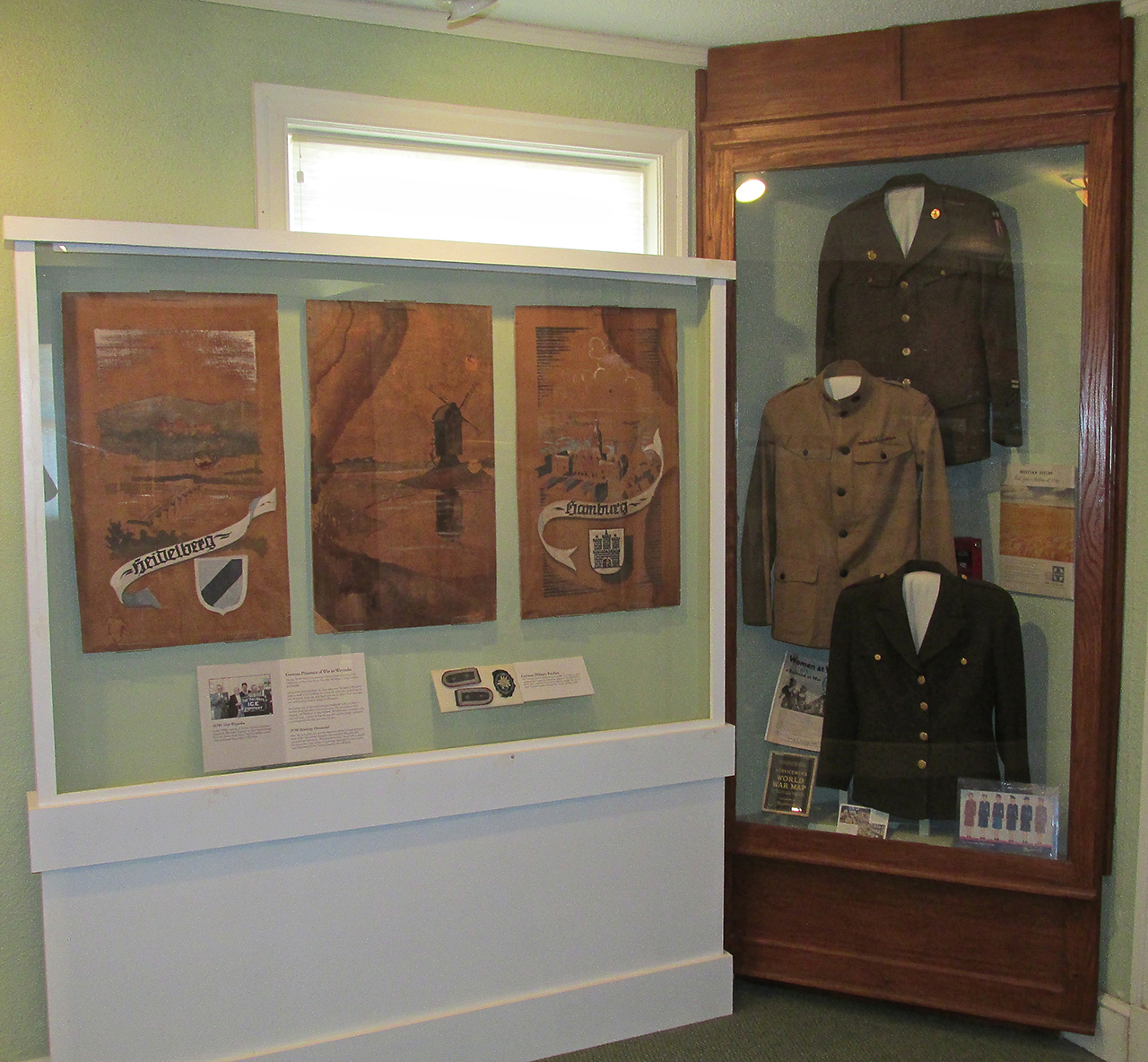 Workin' The Wind
I feel like a broken record on this, but my Fun Flight Method, which I have discussed many times, is predicated on flying under the wind in the morning and then catching it as a tailwind for the flight home (Catching The Wave). The weather forecast that day was panning out 100% accurate. So as the afternoon wore on I knew I needed to get airborne to take best advantage of the changing wind conditions. As the day progressed, the wind would swing from the West to the South. My best scenario would be to catch it during its Southwesterly mode. It was about 2 pm and the wind was doing exactly that. I had seen a good bit of Waynoka and it was time to go.
Up And Out
After returning to the airport I unloaded my stuff, closed the windows, locked up the Courtesy Car and secured its key in the lockbox. After a pre-flight walk-around of the Quicksilver, I fired it up and took to the air. As per my Standard Operating Procedure, I took a few more pictures of Waynoka while leaving the area.
Alva, Oklahoma – City Of Many Murals And More…
Below is a photo of Alva, Oklahoma from 1,000′ AGL looking North. On a previous Sky Surfing Excursion I landed at the airport in the foreground – Alva Regional Airport. I wrote a story about Alva you can see HERE.
Oil And Gas Resurgence
The next series of shots will give you an inkling as to the tremendous effort expended over the last few years in Oil and Gas exploration near the border of Kansas and Oklahoma. These are all different "rows" of installations stretching for miles. Normally wells are drilled directly over the suspected pool. These installations are strung out evenly along county roads. My guess is that they are Horizontal Fracking efforts.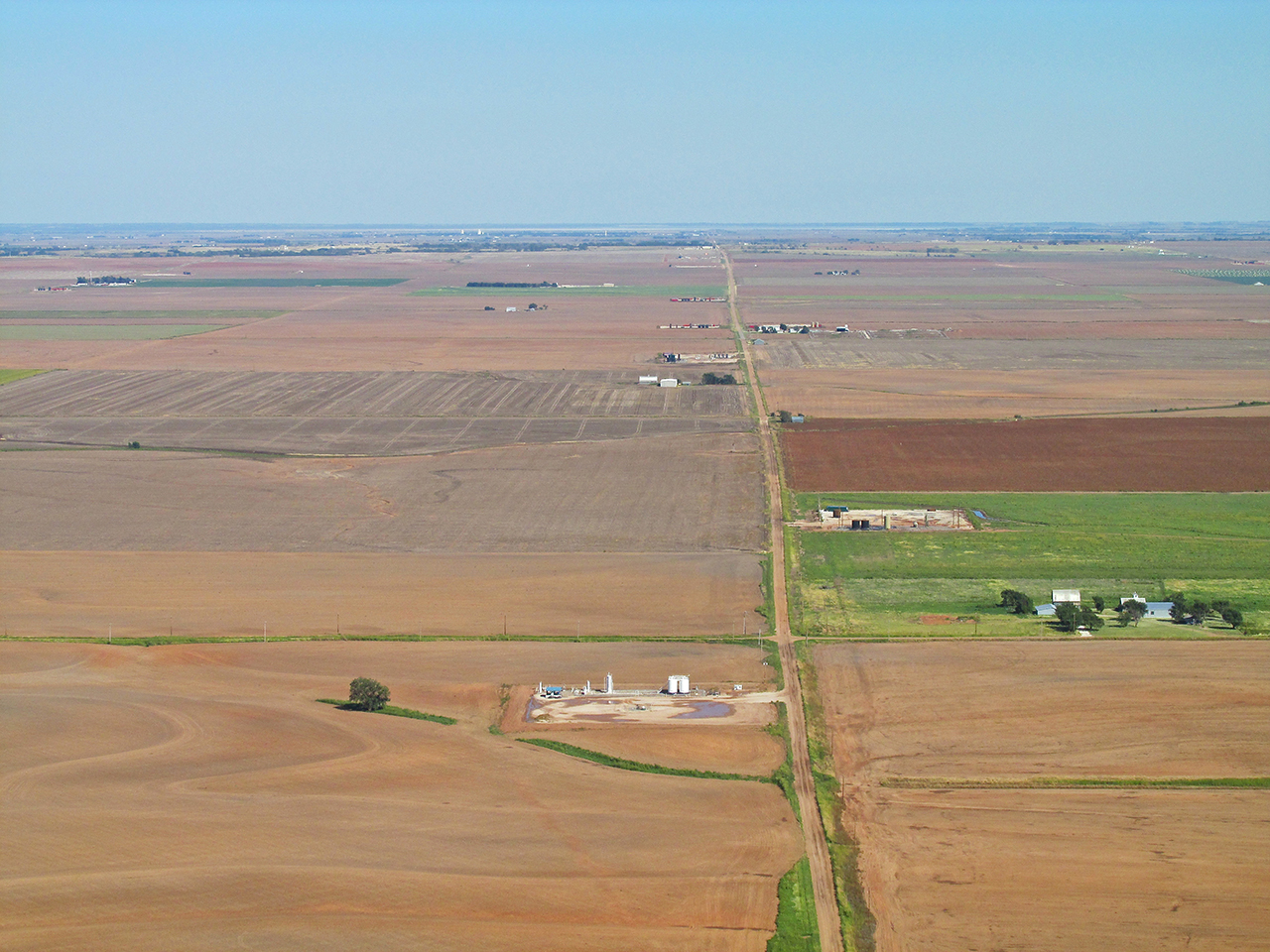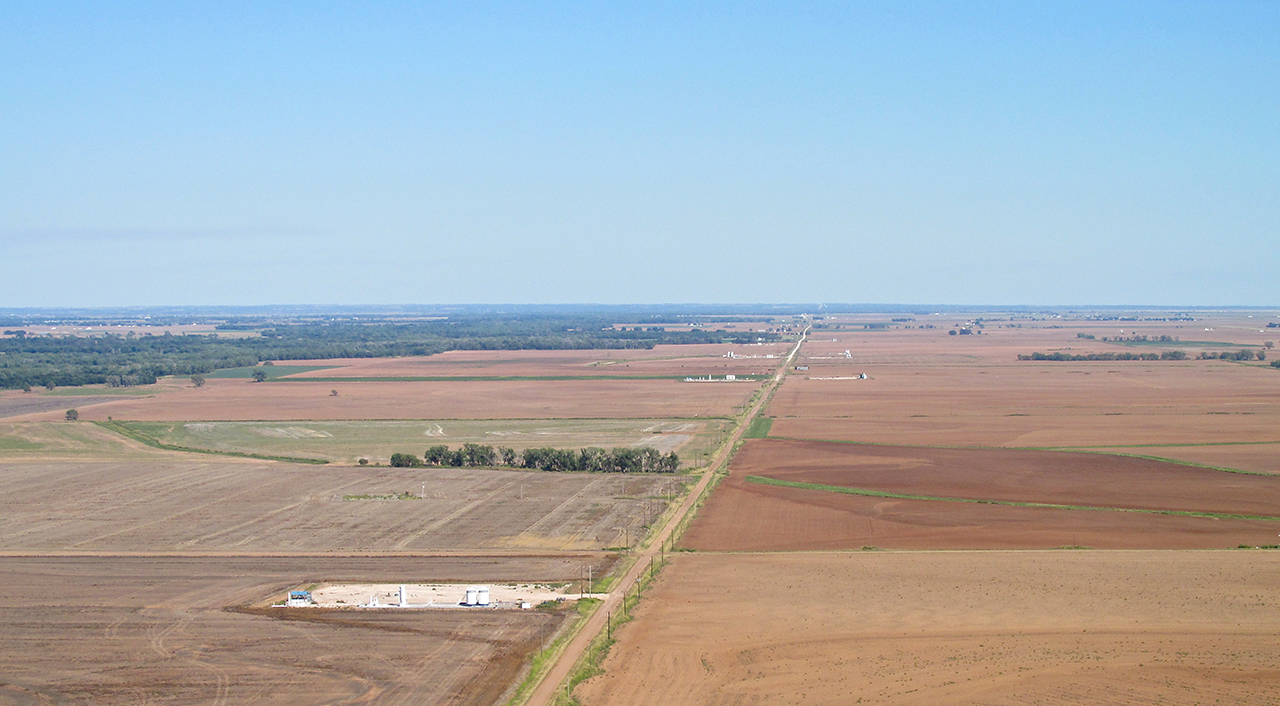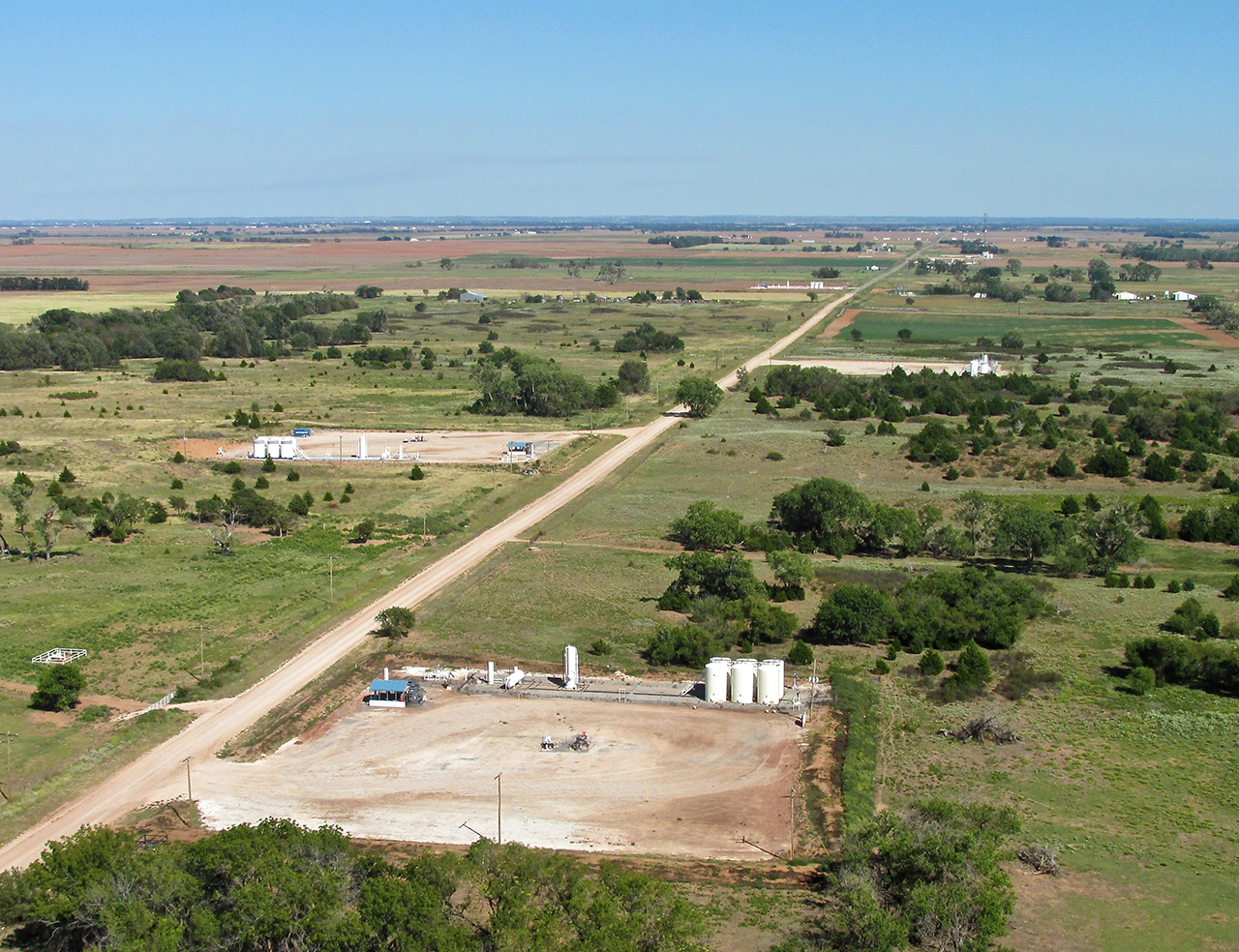 The Oil Boom hasn't stopped the farming, though.
I'm now crossing the Medicine Lodge River.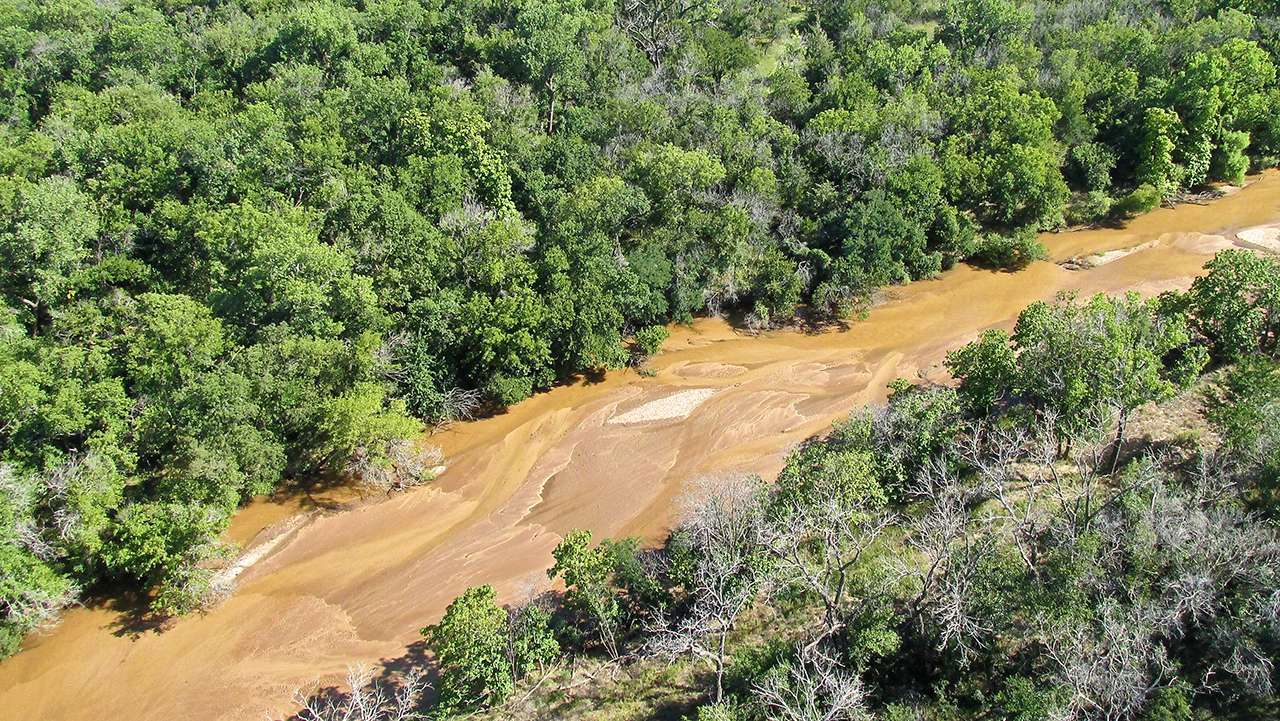 The Oil & Gas Saga Continues
These next three Oil & Gas Exploration Zones are a few miles Southwest of Argonia, Kansas.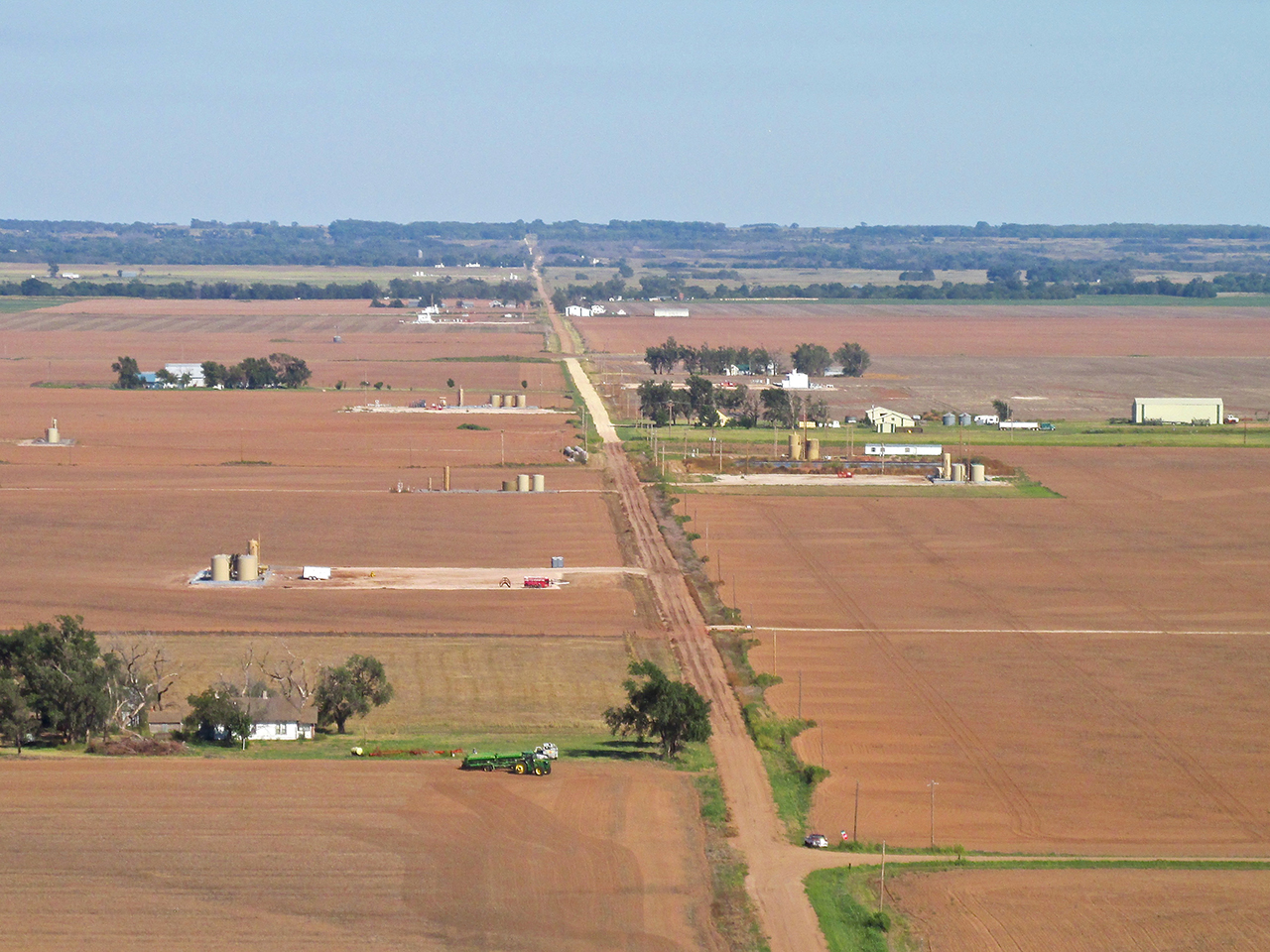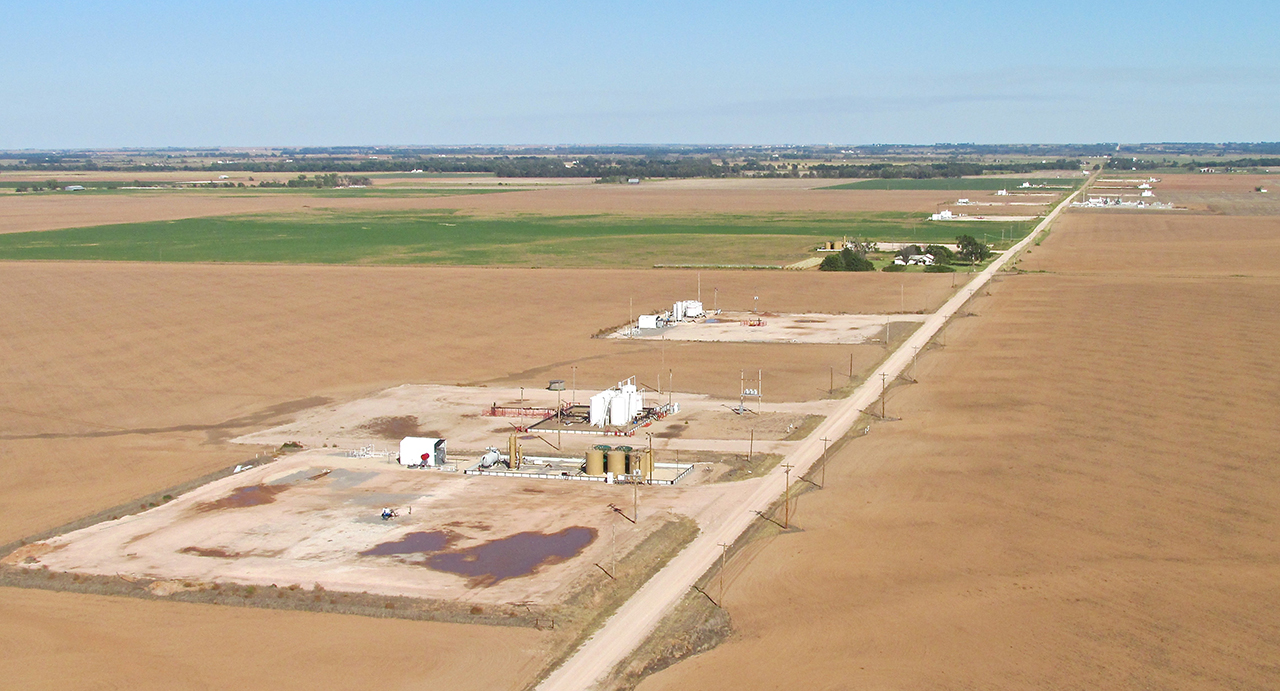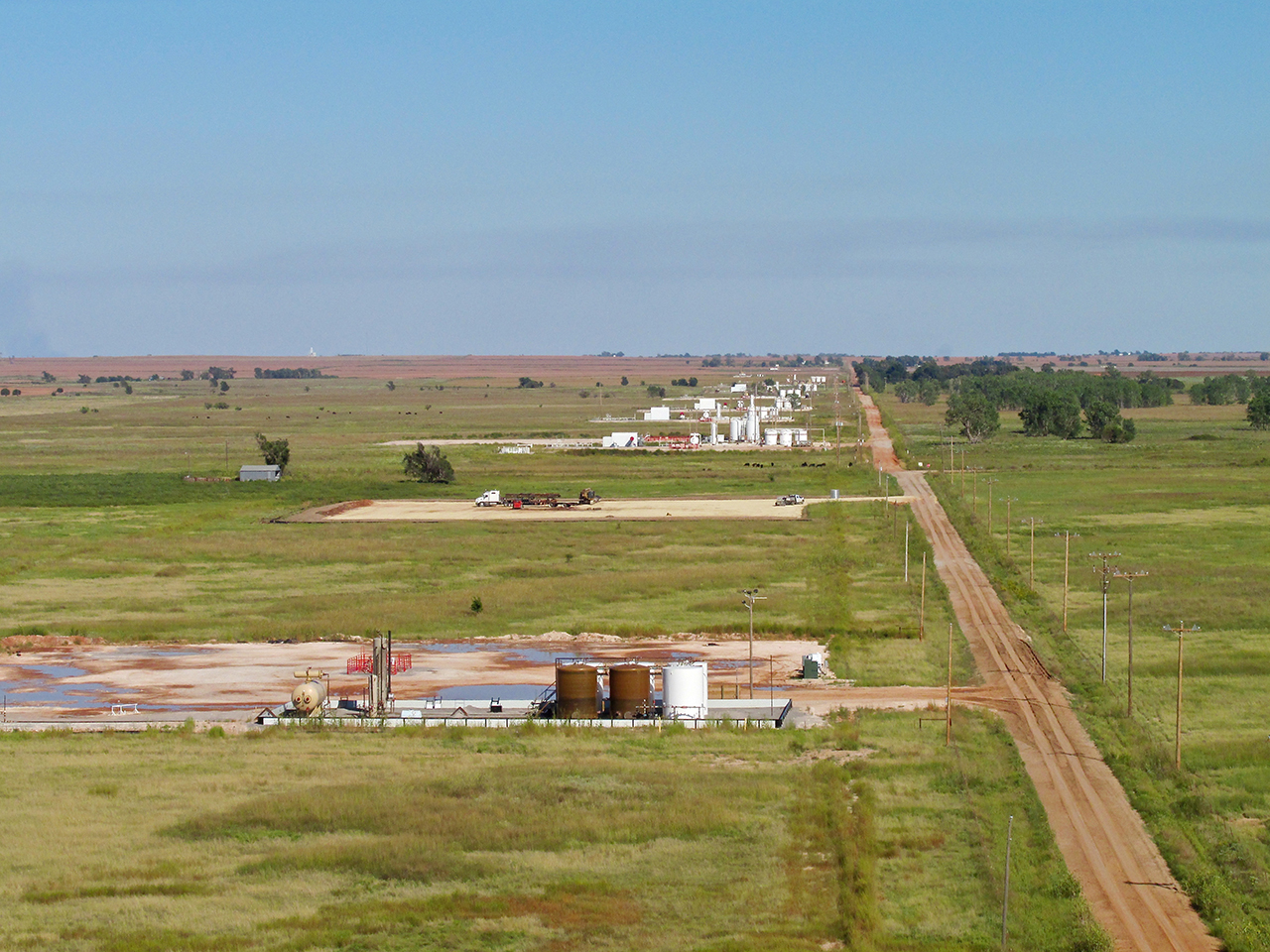 Argonia is interesting for at least two reasons (and no doubt many more). One is shown below is Argonia's Power Plant. They generate their own electricity. Number two is their hosting of the Annual Amateur High Power Rocket Shoot. I produced a documentary on this sport called "A Beginner's Guide to Amateur High Powered Rocketry". While working on the piece I visited Argonia on several occasions to gather interviews and footage. OK, Three Things… Argonia also maintains a nice grass field airport on its Northeast side on which I have landed many times.
Praire Photo Shoot
Permit me to indulge in a couple more portraits of my ride. I was nearing my home base but, not ready to conclude the flight, I made a serendipitous landing on a county road. The wind was nil so I took a few moments to compose some shots: Quicksilver On The Kansas Prairie.
Continuous Beauty
Right after takeoff I was skimming the hedgerows when I came upon this glorious milo field. Milo in itself at this time in its growth cycle is beautiful; the green flood plain weaving through it intensified the value of this wonderful scene.
Fall Flying
The air was stable and clear. CAVU – Ceiling and Visibility Unlimited! Still not wanting to touch down, I circled to attempt some pictures of the Wichita Metro Area North of Selby Aerodrome. Most of my efforts to date have been hampered by haze and humidity. The next two shots are the best so far. From the same position over Selby Aerodrome, I worked on a panoramic and a telephoto. Below I present the best of the litter.
Flight To Waynoka, Oklahoma
Oil and Gas, Farming, Sand Dunes, History, Good Food, Friendly People.
Go experience it yourself!
Blue Skies & Tailwinds!™
Brian FitzGerald – The Sky Surfer – Wichita